NOTE: I have since written an updated version of the ideal PCT gear list.
Check it out here: The Ultimate Pacific Crest Trail Packing List.
I know, my pride got the better of me. I thought I knew better than everyone else and that I could be different out on the trail.
Unfortunately, once again, I was wrong.
As my trip down the Pacific Crest Trail progressed, I found myself getting rid of more and more gear. Sometimes because I wasn't using it enough, and sometimes because I finally decided to compromise on my luxuries. My original gear list ended up containing significantly more than what I finished with.
OSPREY ATMOS 65
PROS: Osprey AirSpeed ventilated, bottom access zipper, comfortable fit (even when fully loaded), hood with two pockets
CONS: on the heavier side, front pocket zippers prone to breakage when fully loaded
WEIGHT: 57 oz / 1.61 kg
MSRP: $240 US
WOULD USE AGAIN? Most Likely
LINK: Osprey Atmos 65
Read my detailed Osprey Atmos 65 review here.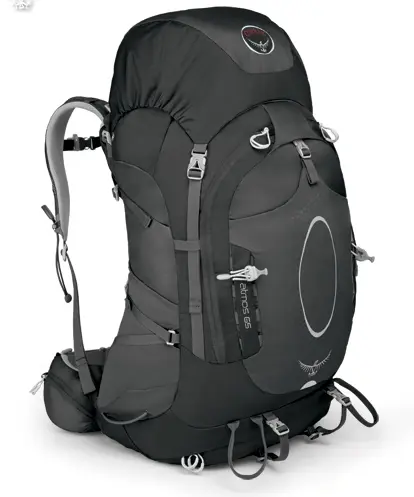 MOUNTAIN HARDWEAR SUPERMEGAUL 1*
PROS: Lightweight, easy setup/breakdown, freestanding, mesh pocket
CONS: Not ideal for camping in the rain, included stakes are not very tough, expensive
WEIGHT: 31.8 oz / 902 g
MSRP: $350 US
WOULD USE AGAIN? Yes
*The SuperMegaUL 1 has been replaced by Mountain Hardwear with the Ghost UL 1.
Read my detailed SuperMegaUL 1 review here.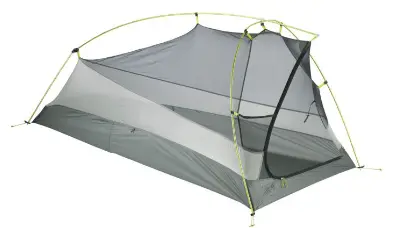 MOUNTAIN HARDWEAR PHANTOM 15
PROS: Incredibly warm and compressible 800-fill down, lightweight, plenty of wiggle room, built-in pocket, dries very quickly (moisture due to condensation, not submersion)
CONS: Expensive
WEIGHT: 33 oz / 936 g
MSRP: $500 US
WOULD USE AGAIN? Absolutely
Read my detailed review of Mountain Hardwear's Phantom 15 sleeping bag here.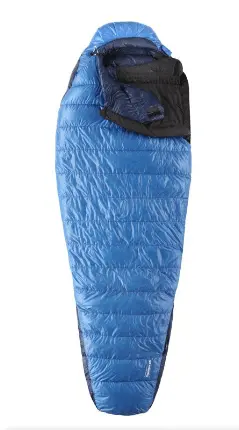 THERM-A-REST Z LITE SOL
PROS: Inexpensive, comfortable, room enough to lay flat, versatile (as a quick mat or water sliding device)
CONS: Heavy and bulky when compared to blow-up pads, noticeably flattens out over time
WEIGHT: 14.5 oz / 411 g
MSRP: $45 US
WOULD USE AGAIN? Most Likely
LINK: Therm-a-Rest Z Lite SOL Sleeping Pad
Read more about the Z Lite Sol and choosing a sleeping pad here.
NEW BALANCE 889 TRAIL RUNNERS*
PROS: Comfortable, wide, durable (wore out three pairs on the hike – the fourth pair has life left in it still)
CONS: The insoles are not very good, I would recommend Superfeet as replacements
WEIGHT: 12 oz
MSRP: $85 US
WOULD USE AGAIN? Yes
*These shoes have been discontinued, I now use the Merrell Moab Ventilator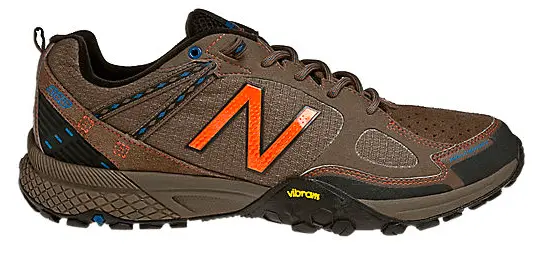 SUPERFEET GREEN PREMIUM INSOLES
PROS: I got these at the same time as my Darn Toughs, but I loved the support that they offered.
CONS: They wear out, just like the shoes. I used two pairs over the course of the trail.
WEIGHT: 12.8 oz
MSRP: $40
WOULD USE AGAIN? Absolutely
LINK: Superfeet Green Premium Insoles
BLACK DIAMOND ALPINE ERGO CORK
PROS: Cork grip prevented hands from becoming filthy (as happens with rubber grips), easily adjustable, locks never failed under stress
CONS: Never used for going downhill, I think I prefer poles with shocks (more fun to lean into whilst stopped)
WEIGHT: 19.9 oz
MSRP: $140 US
WOULD USE AGAIN? Yes
LINK: Black Diamond Alpine Ergo Cork Trekking Poles
For more on trekking poles, check out: Trekking Poles – Why?
COLUMBIA OMNI-FREEZE SHIRT
PROS: Comfortable, lightweight, quick-drying, convertible sleeves
CONS: Columbia's "omni-freeze" gimmick does not actually keep you cooler in my opinion, eventually my pack wore holes in the back of the shirt, expensive for what it is
WEIGHT: 9.6 oz
MSRP: $95 US
WOULD USE AGAIN? Yes
LINK: Columbia Freeze Degree Long Sleeve Shirt
MOUNTAIN HARDWEAR GHOST WHISPERER
PROS: Awesome jacket – incredibly warm, lightweight, and compressible (and works wonders as a pillow), waistband drawstring, elastic cuffs, and turtleneck ensure maximum warmth
CONS: Mountain Hardwear's sizing is not the best, expensive
WEIGHT/MSRP: 7.2 oz
MSRP: $300 US
WOULD USE AGAIN? Absolutely
LINK: Mountain Hardwear Ghost Whisperer
Read my detailed Ghost Whisperer review here.
COLUMBIA COMPOUNDER II SHELL
PROS: Waterproof, plenty of pockets (including a large inside pocket and chest pocket), comfortable
CONS: If you are hiking with your pack on through the rain with this jacket, even with the vents, all of your clothing underneath will still become wet/damp due to condensation and sweat (and yes, even if you have the pit-zips fully opened), expensive, heavy, could not get into outside pockets with my pack's hip-belt buckled
WEIGHT: 14.7 oz
MSRP: $300 US
WOULD USE AGAIN? Maybe
LINK: Columbia Compounder II Shell
COLUMBIA HYDROTECH RAIN PANTS
PROS: Waterproof, comfortable, packs into its own pocket, zippers allow them to be rolled up
CONS: Not breathable, you will become incredibly sweaty in them, one size
WEIGHT: 8.9 oz
MSRP: $90
WOULD USE AGAIN? Yes
LINK: Columbia HydroTech Rain Pants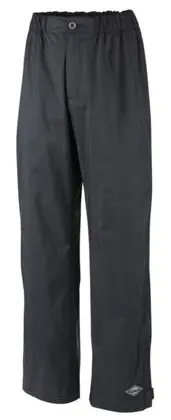 UNDER ARMOR 9″ COMPRESSION SHORTS
PROS: Comfortable, effective at preventing thigh-chafe, rarely began to smell
CONS: The inside seam on one pair eventually tore, but they were still usable
WEIGHT: 4 oz
MSRP: $30 US
WOULD USE AGAIN? Absolutely
LINK: Under Armour HeatGear Sonic Compression Shorts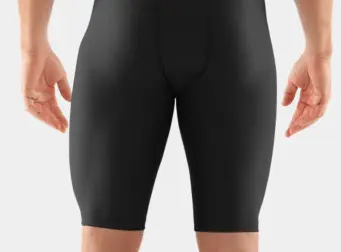 DARN TOUGH 1/4 HIKING SOCKS
PROS: Comfortable, wool, lifetime guarantee, great cushion
CONS: You will never want to buy another brand of socks
WEIGHT: 7.2 oz
MSRP: $20 US
WOULD USE AGAIN? Absolutely
LINK: Darn Tough 1/4 Hiking Socks
Read my detailed Darn Tough Sock review here.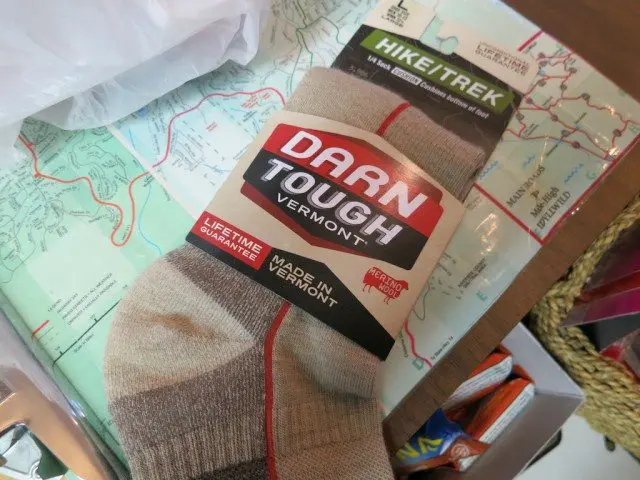 MOUNTAIN HARDWEAR DOME PERIGNON
PROS: Comfortable, warm, can be worn to make you look like an elf or down around the head and ears
CONS: Mountain Hardwear is terrible at sizing their products (try before you buy), significantly muffles your hearing
WEIGHT: 2 oz
MSRP: $25 US
WOULD USE AGAIN? Yes
LINK: Mountain Hardwear Dome Perignon
PLATYPUS WATER BOTTLE
PROS: Packable, durable, usable with a pop-top or hose, BPA free
CONS: Make sure you keep them clean, one of my bottles got moldy
WEIGHT: 1.6 oz
MSRP: $17 US
WOULD USE AGAIN? Yes
LINK: Platypus plusBottle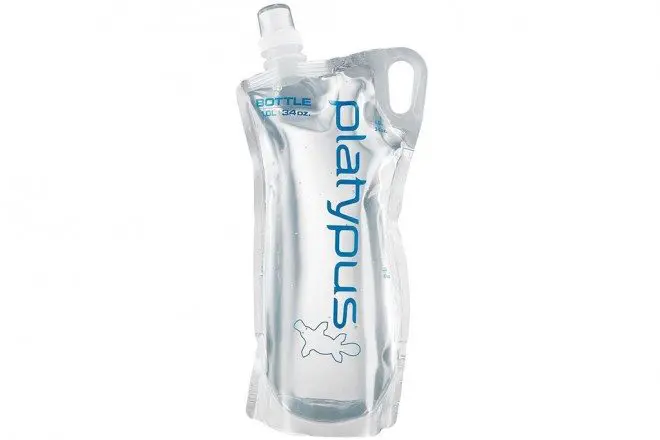 CAMELBAK ALL CLEARWATER PURIFIER
PROS: Incredibly convenient, can walk and filter at the same time, rechargeable, long battery life
CONS: Very heavy (relative to other purifiers), can only filter 0.75 liters at a time, can be difficult to fill from some sources, following the trail I dropped it on cement and cracked the bulb
WEIGHT: 14 oz
MSRP: $100 US
WOULD USE AGAIN? Most Likely
LINK: CamelBak All Clear
Read my detailed CamelBak All Clear review here.
GOAL ZERO NOMAD 7 SOLAR PANEL
PROS: Charges quickly in direct sunlight, no battery pack needed, can be attached to pack, USB port, pocket
CONS: Heavy, not the best in cloudy conditions, newer version has cords already attached
WEIGHT: 16.5 oz
MSRP: $150 US
WOULD USE AGAIN? Maybe
LINK: Goal Zero Nomad 7 Solar Panel
BLACK DIAMOND STORM HEADLAMP
PROS: Small, bright enough to set up and move about camp, three modes (spotlight, flood, red light), strobe setting
CONS: Prone to turning on inside pack, not great for hiking at night, eats batteries quickly, claims to be a regulated output (I doubt this very much)
WEIGHT: 3.9 oz
MSRP: $50 US
WOULD USE AGAIN? Probably Not (would get something brighter)
LINK: Black Diamond Storm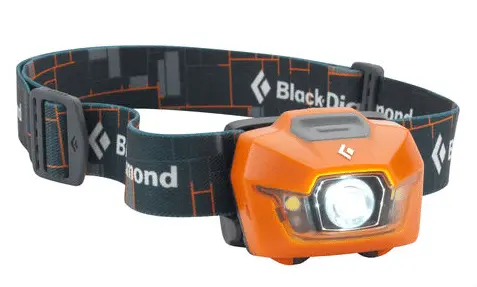 CANON S100
PROS: Excellent photo quality, lightweight, decent optical zoom, shoots video, excellent battery life
CONS: Prone to malfunctioning in cold temperatures or in the rain (as I would expect), cannot recharge via USB
WEIGHT: 6.1 oz / 173 g
MSRP: $430 US
WOULD USE AGAIN? Absolutely
NOTE: The S100 has been replaced by the S120 (which I have yet to use).
LINK: Canon PowerShot S120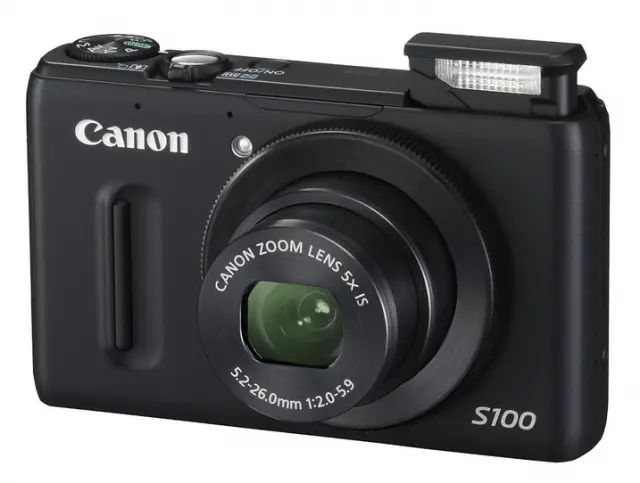 GEAR SENT HOME
The following is a list of gear I sent home after finally realizing that I did not need it (and trust me, even if you don't think so now, you are in fact bringing too much gear, and you will end up getting rid of a significant amount – I was just as ignorant/arrogant).
Aquamira Water Treatment Drops
WHY? Except for the two times my SteriPen broke, the Aquamira drops were useless. If you really need backup filtration you can always ask other hikers.
LINK: Aquamira Water Treatment Drops
Platypus Big Zip SL 3.0L Reservoir
WHY? After the desert carrying more than two liters of water at a time became silly (and incredibly heavy) – this was simply no longer needed.
LINK: Platypus Big Zip 3L
28-T Mini Trangia, Titanium Cook N Save Pot, Fuel Bottle
WHY? It took until Crater Lake, but I finally decided to ditch my cooking supplies. Cooking took too long, the equipment weighed too much, and the food wasn't worth the effort. Stoveless FTW.
LINK: Trangia 28-T Mini Trangia, Snow Peak Titanium Cook N Save Pot
Joby Gorillapod, Pocket XShot, Camera Remote
WHY? For the same reasons listed above, you will not need all the "fancy" camera equipment you thought would be a good idea. Leave it behind and get your ass hiking.
LINK: Joby Gorillapod, XShot Camera Extender
Speaker (Kinivo ZX100 Mini)
WHY? I rather enjoyed having my small speaker along on the trial, but eventually, the trail finally claimed it, and I chose not to get another. Guess what? I survived just fine without it. Leave it at home.
LINK: Kinivo ZX100 Mini Portable Speaker
UCO Windproof and Waterproof Survival Matches
WHY? Don't kid yourself. You are not going to be in a position where lighting a fire is the difference between life and death. Forget your backup fire starter at home.
 
LINK: Windproof and Waterproof Survival Matches
Suunto M-3D Leader Compass
WHY? Again, don't kid yourself. The trail is very well-marked (for the most part), and unless you are venturing into some incredible snow (in which case you should have a GPS because you will not be able to see the trail), then you will not need a compass.
LINK: Suunto M-3DL Compass
Marmot DriClime Windshirt
WHY? I rather liked the Windshirt by Marmot, but I really did not need a layer "slightly less warm" than my down jacket. If it is cold, wear your down. If it isn't, then deal with it.
LINK: Marmot Driclime Windshirt
Bodyglide Anti-Chafe 0.45 oz
WHY? There are a few truths you will learn on the trail, one of them? The only thing that can cure ass-chafe is sleep – this product only serves to take up space in your pack.
LINK: Bodyglide Anti-Chafe Balm
GoPro Hero 3 Black
WHY? First thru-hike? You are going to be far too exhausted to record the epic documentary you planned on making. Just focus on hiking your miles and making to most of your hike. Leave the extravagance behind.
LINK: GoPro
Dr. Bronner 2 oz Peppermint Soap
WHY? I don't know who I was kidding, you do not need soap. If you are in a position to take a shower, then soap will be available to you (and water should be enough) – leave the soap at home, friends.
LINK: Dr. Bronner's Liquid Soap
Bug Repellant
WHY? Bug repellant does not work – truth. If you want to stop bugs, wear long sleeves/pants and get inside an enclosed shelter. DEET won't help you.
Sunscreen
WHY? Once you get out of the desert, the sun ceases to be an issue. Sunscreen should probably be used on a daily basis, but since I stopped burning, I stopped applying/carrying the stuff.
Long Underwear (Bottoms and Top)
WHY? I tried using my long underwear in the beginning, but it turned out that I really did not need it. If it is cold at night, then get in your sleeping bag. You may need these layers if you hit snow in Washington, but with this exception, you should be fine sleeping in your down should it come down to it.
Gaiters
WHY? I tried using Mountain Hardwear gaiters until I realized that I did not have the equipment to properly attach them to my shoes, and then I tried Dirty Girls until they became too riddled with holes to do any good. Ultimately I ended up with no gaiters, and I was perfectly fine.
GEAR CHANGED OUT
Despite all my research and all my planning, I still found that my gear was sometimes not exactly what I needed out on the trail.
ADDED: Sea to Summit 13L Dry Sack | DROPPED: Sea to Summit 15L Compression Sack
WHY? Did not want to/did not need to be compressing the down in my sleeping bag every day, and saved a bit of weight by losing the compression sack.
LINK: Sea to Summit eVAC Dry Sack
ADDED: CamelBak All Clear | DROPPED: SteriPen Ultra
WHY? Not one but two SteriPens malfunctioned on me, and upon reaching Mammoth Lakes, California I was sick of their bullshit – the CamelBak All Clear was a bit heavier but incredibly convenient (I could hike and filter at the same time), and reliable.
LINK: Camelbak All Clear Bottle
ADDED: Darn Tough Hike/Trek Socks | DROPPED: KEEN Olympus Crew Socks
WHY? As discussed before, the KEEN socks were garbage, and the Darn Toughs were fantastic.
LINK: Darn Tough Hike/Trek Socks
ADDED: REI Safari Convertible Pants | DROPPED: Mountain Hardwear Portino Convertible Pant
WHY? The Mountain Hardwear pants experienced major ripping in the crotchal region and the REI pants were the most readily available (which ultimately also experienced similar crotchal ripping). 
LINK: REI Safari Convertible Pants
ADDED: Double Mountain Flex Fit Hat | DROPPED: Outdoor Research Transit Sun Hat
WHY? Got sick of the sun hat once the sun stopped being a factor – opted for something more my style.
The Final Word
No matter what, you will end up making changes to your gear.
Whether equipment breaks, does not work the way you expected, or just becomes useless over time, expect that your pack at the end of your PCT hike may be surprisingly different from the pack you started with.
Questions about my gear choices or anything said here? Leave a comment below and I will do my best to address any questions.
Disclosure: Your trust is important to me and that's why I only recommend products I love and personally use. This page contains affiliate links which means at no additional cost to you, I may receive small commissions for purchases made via these links. This helps keep the site up and running.