If there's one piece of gear that causes Pacific Crest Trail hikers the most headaches, it's the bear canister. Most northbound PCT thru-hikers pick up their bear canisters at Kennedy Meadows and then ditch them at either Sonora Pass (Kennedy Meadows North/Bridgeport) or Echo Summit (South Lake Tahoe/Echo Lake); most can't wait to be rid of them.
The logistics of buying, renting, shipping, and returning a bear canister can be a pain, especially if you're not expecting to use a bear canister beyond your time on the PCT.
Much of the guidance overlaps between land management agencies, but there are some inconsistencies and the rules can be confusing at times (even when speaking to rangers). The most surefire way to ensure you're in compliance is to simply carry an approved bear canister.
---
A Note on Counterbalancing (i.e. the bear hang)
Although counterbalancing your food is an acceptable practice when you don't have a bear canister and there is no bear box available, it isn't at all practical in many situations. The areas passed through in Inyo National Forest and Sequoia/Kings Canyon National Park (SEKI), provide very few opportunities for a proper counterbalance.
It's a common misperception that the counter-balance method is a good way to protect food from bears. However, because bears are so adaptable, many have learned to obtain counter-balanced food. This method generally does not work in these parks. Only use this option if the others are not available.

–SEKI
It is extremely difficult to find an adequate tree and properly counter balance the bags. Counter balancing is not as effective as it once was. Even when it is hung properly, bears may figure out a way to get your food – some bears will chew the branches off trees to get the food. The counter-balance method is only a delaying tactic. Be prepared to actively defend your food. You may need to repeatedly scare bears away from your camp.

–Inyo National Forest
SEKI has more information on counterbalancing (bear hanging) your food here.
---
Sequoia and Kings Canyon National Parks
Sequoia and Kings Canyon National Parks (SEKI) only require bear canisters in three specific areas. For more information, you can check out the map and area descriptions. Outside of these areas, according to the park information page, you are required to use food storage boxes (i.e. bear boxes) or the counterbalance method (i.e. bear hang).
Rock Creek Drainage: North of where the PCT crosses into Sequoia National Park (east of Siberian Pass) and south of Guyot Pass (northeast of Mount Guyot). If you're using Guthook, between (northbound) miles 753.9 and 762.9.
Rae Lakes Loop Area: North of Forester Pass and south of Pinchot Pass. Between Guthook (northbound) miles 779.5 and 807.1.
Dusy Basin & Palisade Basin: All cross-country areas and anywhere along the trail between the PCT and Bishop Pass (note: this is not on the PCT but is instead along the route used to exit/enter via Bishop Pass)
---
Inyo National Forest
Much of the Pacific Crest Trail through the Sierra Nevada passes through Inyo National Forest. Inyo National Forest encompasses many of the wilderness areas hikers pass through during their time in the Sierra (including Ansel Adams Wilderness, Golden Trout Wilderness, and the John Muir Wilderness).
In areas of Inyo not requiring a bear canister, you are required to use a counterbalance hanging technique. For instructions on how to properly counterbalance hang your food (something that's very difficult to do in the Sierra because of the lack of adequate trees), find instructions on the SEKI website.
Note that numbers one through four are not on the PCT. However, they are commonly used as entry/exit points for PCT hikers while resupplying in the Eastern Sierra.
Horseshoe Meadows: Between the trailhead and Cottonwood Pass, between the trailhead and New Army Pass, and between the trailhead and (Old) Army Pass. The trail to Trail Pass does not require a bear canister.
Whitney Zone: Between Trail Crest (west) and Whitney Portal (east)
Onion Valley: Between the trailhead and Kearsarge Pass
South Lake: Between the trailhead and Bishop Pass (note: this is not South Lake Tahoe and most people will not use Bishop Pass to enter/exit the Sierra from the PCT, but it's an option)
Mammoth Area: Between Lake Virginia (south) and the outlet of Duck Lake (north); between northbound Guthook miles 890.7 and 895.9
Mammoth Area: Between Crater Creek (south) and Donohue Pass (north); between northbound Guthook miles 902.6 and 929.6
Inyo National Forest provides this map of the areas requiring bear canisters (the areas in red). The areas in green require either a bear canister or a counterbalance hanging technique.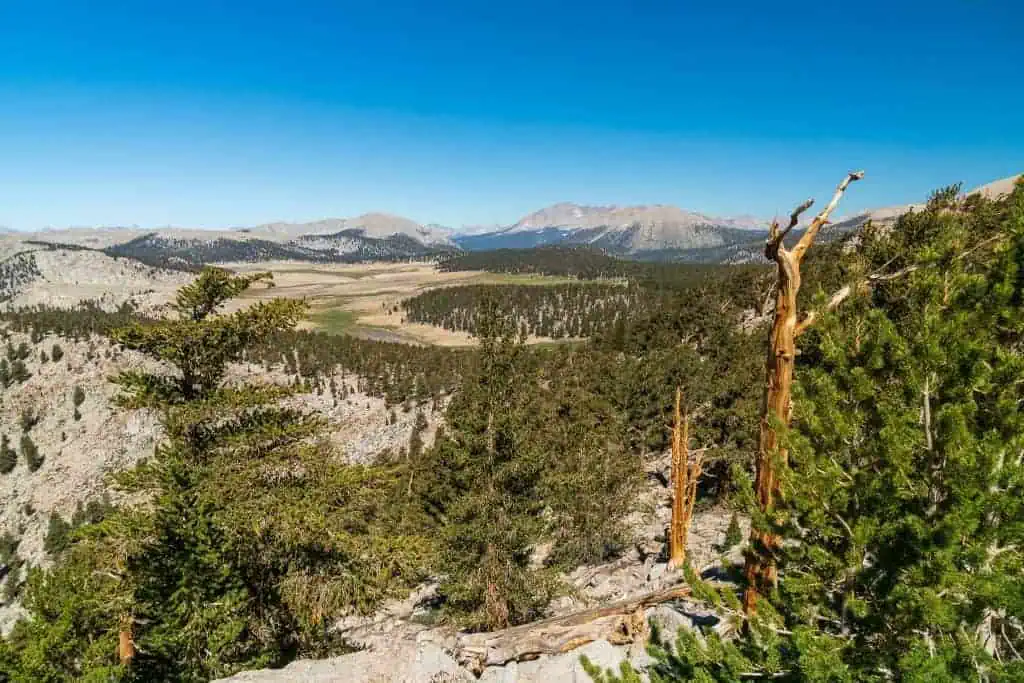 ---
Yosemite National Park
Yosemite is no-nonsense when it comes to food storage requirements. Bear canisters are required, period. No counterbalancing, no bear boxes (outside developed campgrounds), and no excuses.
This is the one section of the Pacific Crest Trail where you can't escape a heavier pack. The only bear boxes located on (near) the Pacific Crest Trail through Yosemite are at the Tuolumne Campground (there is a hiker/biker camp here, but you can also reserve a campsite) and Glen Aulin (reservations required).
The Pacific Crest Trail is within the bounds of Yosemite National Park between Guthook (northbound) miles 929.6 and 997.1.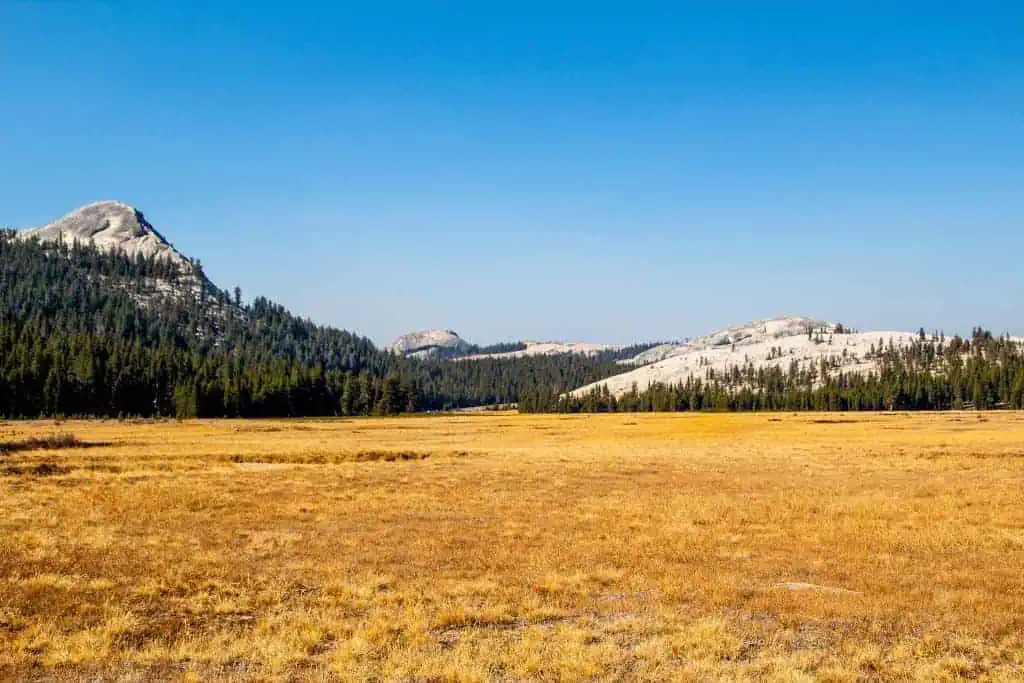 ---
Lassen Volcanic National Park
Lassen Volcanic National Park, like Yosemite, is no-nonsense.
If you plan on camping in Lassen Volcanic (northbound Guthook miles 1344.8 to 1364.1), you will need one of the approved bear-resistant containers for Lassen. Unlike elsewhere on the Pacific Crest Trail, the Ursack Major and the Ursack AllMitey are approved for use in Lassen.
Again, so long as you don't plan on camping within the park boundary, you don't need a bear canister. There are no bear boxes in Lassen's backcountry, but there is a developed campground, Warner Valley, three miles (5 km) north of where the PCT crosses the park's southern boundary.
There are 8 reserved sites at Warner Valley Campground and 9 first-come, first-served sites. There is no hiker/biker campsite. If you want to reserve a site at Warner Valley Campground, you can do so here.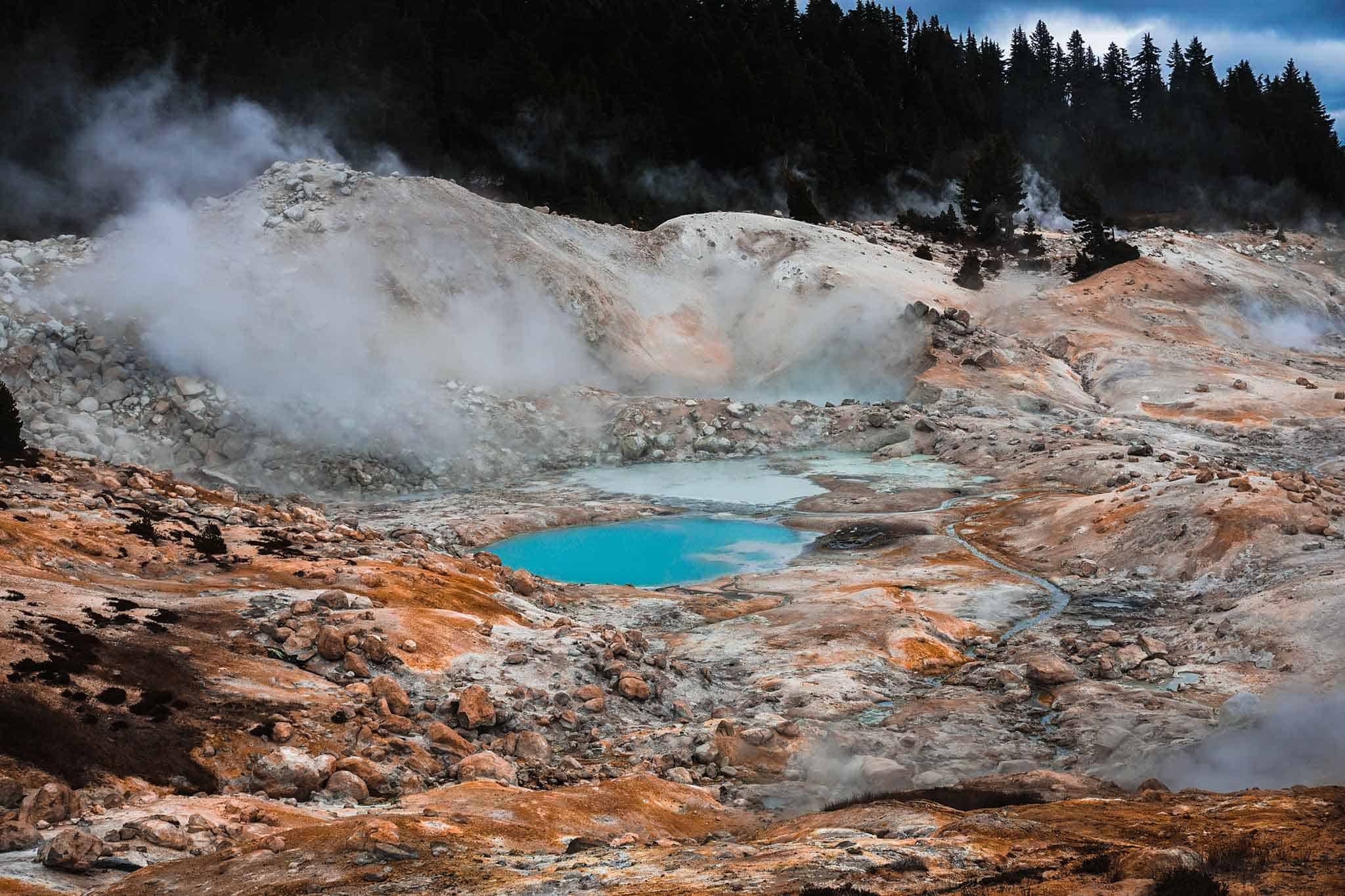 ---
Approved PCT Bear Canisters
The following is a list of all the bear canisters approved for use on and along the Pacific Crest Trail. This list is subject to change. Here is the most current (although obviously outdated) list of approved containers for SEKI and Yosemite. As far as I can tell, Inyo National Forest does not provide a list of approved containers (but it's probably safe to assume that anything good enough for SEKI or Yosemite will have you covered in Inyo as well).
For more on bear canisters, check out my post on the best PCT bear canisters.
---
Resources