The Trans-Catalina Trail crosses Catalina Island and is a popular and accessible multi-day backpacking trip. One of the most challenging parts of backpacking the Trans-Catalina Trail? Getting permits for the campsites.
Most of Catalina Island is managed by the Catalina Island Conservancy, including the Trans-Catalina Trail. The Conservancy suggests a four-day backpacking trip for those planning to hike across the island. There are a total of five campsites along the trail: Hermit Gulch (in Avalon), Black Jack Campground, Little Harbor Campground, Parsons Landing Campground, and Two Harbors Campground. Each campsite has a limited number of sites and spots can fill up quickly.
So what if you want to do the Trans-Catalina Trail but you can't get campsite reservations? Or what if you have a limited amount of time (like a weekend) and want to be able to do the trail and also experience some Catalina sights beyond the trail? In that case, you do the entire trail in a day, of course.
Trans-Catalina Trail Overview
Location: Catalina Island (California, USA)
Length: 38.5 mi / 62 km
Type: One-way
Recommended Time: 2-4 days
Most Popular Months: May to September
Max Group Size: 10
Permit Required: Yes
Permit Cost: $0 for a single-day trip (permit link)
Dogs Allowed: Yes
Trailheads: Avalon (33.342719, -118.323749) | Two Harbors (33.441628, -118.498261)
Low Point: Avalon, Little Harbor, Two Harbors (sea level)
High Point: Granite Peak, 1,752 ft / 534 m (map)
Elevation Gain: 8,112 ft / 2,473 m
Elevation Loss: 8,089 ft / 2,466 m
Difficulty (as a single-day run): Strenuous
Things to Know
There is no hiking (and presumably running) permitted after dark.
The earliest you can reserve a (free) permit is 4:00 AM (permit link).
There are bison on Catalina Island. These are wild animals and must be respected. Do not approach, startle, or harass bison. I had to wait (multiple times) for bison to move off the trail before I would proceed.
No smoking or open fire is allowed anywhere on Conservancy land except at designated campgrounds or facilities.
Hitchhiking is prohibited.
Dogs must be leashed at all times. Cats or other non-native animals are not allowed. All dog waste must be collected and removed.
Getting to Catalina
You can reach Catalina either by boat, plane, or helicopter. If you're going to be tackling the Trans-Catalina Trail in a day, you'll likely be using the boat option (as most people do since it's the more affordable option). The Catalina Airport (AVX) is a private airport in the middle of the island and would be an inconvenient place to begin a Trans-Catalina Trail journey (commercial helicopters fly to Avalon). That said, the trail does go right past the airport.
As for boats, you have two choices, the Catalina Express (with service from San Pedro, Long Beach, and Dana Point) or the Catalina Flyer (with service from Newport Beach).
Note: Only the Catalina Express offers service to and from Two Harbors. It is also possible to take the Catalina Express from Two Harbors to Avalon. The Catalina Flyer goes only between Avalon and Newport Beach.
The Cyclone powerboat operates seasonally (beginning Memorial Day weekend) and offers $15, one-way, twice-daily service between Avalon and Two Harbors. Boats leave Avalon for Two Harbors at 10:15 am and 2:30 pm. Boats leave Two Harbors for Avalon at 11:45 am and 4:30 pm.
Costs
As of this article's publication, the costs associated with getting to/from Catalina are as follows:
Trans-Catalina Trail Trailheads
There are two trailheads for the Trans-Catalina Trail, one in Avalon and one in Two Harbors. You can start the trail from either trailhead, and there are cases to be made for either direction.
Avalon Trailhead
Technically, the Avalon trailhead for the Trans-Catalina Trail is at the roundabout in front of Catalina Island Conservancy Trailhead (map). Note: I found the staff here to be both unhelpful and unfriendly – hostile even. If you have questions about the trail, I would recommend calling Two Harbors Visitor Services (+13105104205).
However, the first 1.6 mi / 2.6 km of the trail is on a paved road that takes you up to Hermit Gulch Campground (map). If you don't care about this first bit of trail, you can instead start at this trailhead at Hermit Gulch.
If you start from Avalon, you'll be doing the trail in the more traditional direction. You'll begin with a big climb and then have a second large climb (up to the trail's high point) at around 26 mi / 42 km.
One of the benefits to going in this direction is that the Trans-Catalina Trail passes through Two Harbors (where the other terminus is) at just over 24 mi / 38.6 km in. The trail then does a 14 mi / 22.5 km loop around the west side of the island past Parsons Landing before returning to Two Harbors. This means if you aren't making the time you thought you would or you want to end your single-day attempt early, you can easily bail at this point – shaving ~14.5 mi / 23.3 km off the length of the trail.
Two Harbors Trailhead
There's no officially marked trailhead in Two Harbors for the Trans-Catalina Trail (that I'm aware of), but a good place to start (or end) the trail is at Two Harbors Visitor Services (map).
Starting at Two Harbors means you'll begin the trail with an ~8 mi / 12.9 km, relatively flat section along an unpaved road. After this, you'll have your biggest climb, up to the trail's high point, before returning to Two Harbors and then climbing again. Going this direction knocks out most of the climbing earlier and ends with a long descent.
If you begin at Two Harbors (and decide to do the entire trail), you won't have the option to bail early as you do when starting in Avalon (although you can cut 1.3 mi / 2.1 km off the eastern portion by taking Stagecoach Road down into Avalon instead of following the Trans-Catalina Trail to Hermit Gulch Campground).
The Single-Day Itinerary
The following covers how to complete the Trans-Catalina Trail in a single day if you plan on beginning and ending on the mainland (i.e. you don't want to spend the night before or after on Catalina).
AVALON TO TWO HARBORS: The earliest boat to Catalina is the 6:00 AM Catalina Express from Long Beach to Avalon – arriving in Avalon around 7:30 AM. The last boat from Two Harbors departs at 4:45 PM (note: this boat does not depart every day in every month – check the schedule to confirm.
This means you'll have nine hours – at most – to complete the trail if you want to arrive and leave Catalina in a single day. Note: the 6:00 AM boat departs Long Beach and the 4:45 PM boat from Two Harbors arrives at San Pedro. There's only 6 mi / 9.7 km between the two ports, but keep this in mind if you plan on leaving a car at Long Beach. You'll need transportation back to Long Beach from San Pedro.
There are no ferries from Two Harbors to Long Beach.
TWO HARBORS TO AVALON: If you want to complete the Trans-Catalina Trail in a single day beginning in Two Harbors and ending in Avalon, you will have less time than you would if doing it in the opposite direction. The only boats leaving for Two Harbors depart San Pedro; the first departs at 8:45 AM and arrives in Two Harbors at around 11:00 AM. The last boat from Avalon to San Pedro leaves at 6:00 PM.
This leaves a little under seven hours to complete the trail in this direction – over two hours less than the Avalon to Two Harbors direction.
One potential benefit to doing the trail in a single day in this direction is that you can start and end at the same place – San Pedro. However, it would be easy to catch a taxi or rideshare from San Pedro to Long Beach if you completed the trail in the other direction.
Where to Stay
Spending the night either before or after completing the Trans-Catalina Trail in a day is a reasonable option available to you that will make the trail logistically easier than arriving and leaving Catalina in a single day.
Avalon
If you're planning to stay in Avalon, there are plenty of options available to you. You can stay in one of Avalon's many hotels, rent a (probably very expensive) Airbnb, or stay at Hermit Gulch Campground.
Two Harbors
If you're planning to stay in Two Harbors, your options are much more limited. You can stay at Banning House, one of two vacation rentals (Villa Santa Rosa or Villa Santa Cruz), or the Two Harbors Campground (there are tent sites and deck rooms – i.e. cabins)
Spending the Night Before
If you intend on spending the night before or after the Trans-Catalina Trail on Catalina Island, you'll give yourself a bit more time to complete the trail. This is what I did and what I would recommend.
There is no hiking permitted on Catalina Island after dark. That said, the earliest permissible time you can list on your permit (for day hikes – or runs) is 4:00 AM. That means, or at least I would suppose, if you spend the night on Catalina Island the night before, you can start the trail at 4:00 AM.
Just remember that if you're planning on leaving Catalina the same day you finish the trail, you'll have to make it to the boat in time.
Spending the Night After
Spending the night following the Trans-Catalina Trail can be an attractive option since you won't have to worry about finishing in time to catch a boat back. There were a few times during my day I wished this is what I had planned to do.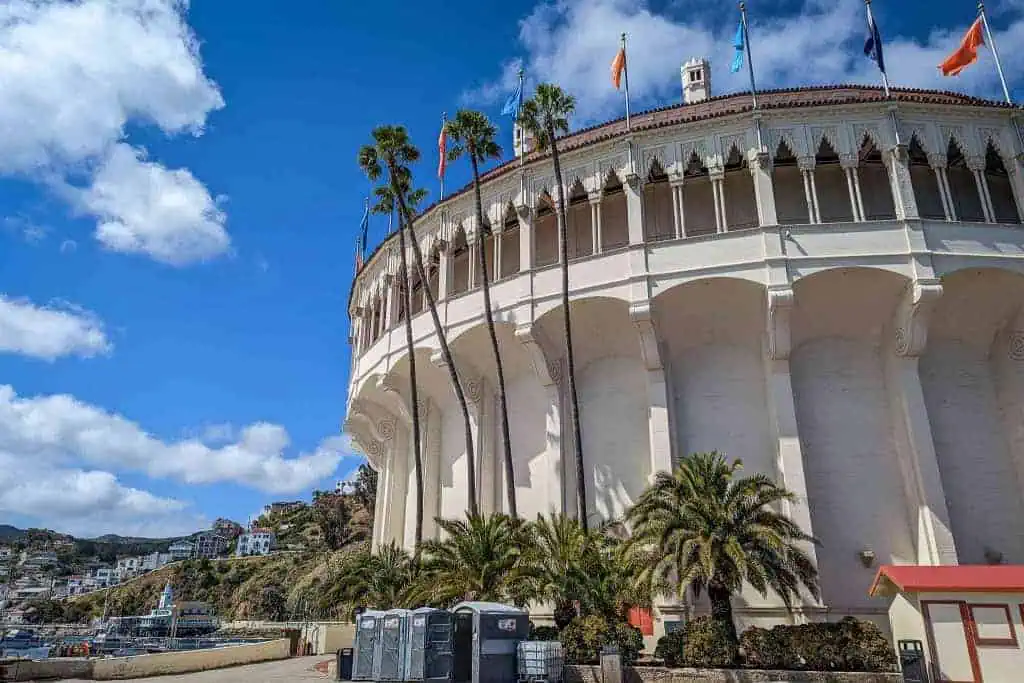 When to Hike
The Trans-Catalina Trail can be done year-round. That said, the most popular months are from May through September. However, one thing to keep in mind is that the boats to and from Catalina operate with seasonal schedules. There are more trips to and from Catalina during the period from April through September.
Peak Season (May to September): These months are the most popular for hiking the Trans-Catalina Trail. On a single-day attempt, this will translate to seeing more people out on the trail and slightly warmer temperatures. Summer highs, on average, are around 77°F / 25°C and lows are around 62°F / 17°C.
Shoulder Season (March/April, October/November): The shoulder seasons are arguably the best time for a single-day Trans-Catalina Trail trip. Not too hot, not too cold, not too many people, and not great chances of precipitation. I did it in March (it did rain two days beforehand) and thought the weather/conditions were fantastic.
Winter (December-February): There's nothing wrong with completing the trail during the winter – it will just be cooler than other times of the year. That said, temperatures never dip too low (49°F / 9°C is the average low). Do keep in mind that the winter is Catalina's rainy season. It only rains an average of 12 in / 30 cm, with most of it occurring in the winter months.
Trans-Catalina Trail Permits
You need a permit if you're planning to do the Trans-Catalina Trail in a day. The permit is free and can be acquired online from the Catalina Conservancy.
You'll need to create an account, provide your name, email, address, and phone number, choose "Trans Catalina Trail" from the dropdown menu, and then provide the start date of your hike as well as your start time.
There is nobody at the start or end of the hike to check or sign off on your permit. Presumably, your permit can be checked by law enforcement on the island at any time. I saw a law enforcement vehicle at Little Harbor Campground but had no interaction with them.
Gear & Packing List
If you're going to be completing the Trans-Catalina Trail in a day, you'll probably be going light (as you'll most likely be running. Here's a checklist to make sure you've got all you need to be successful.
RUNNING VEST: Since this technically falls into the ultramarathon territory, you'll probably want a running vest. If you're going to have extra gear that you'll need to carry to/from Catalina, go with something larger. If you have brought only what you'll need and nothing else, then you could probably get away with something smaller.

TREKKING POLES: If you're a fan of using trekking poles when you run (or quickly hike), then don't forget them on the Trans-Catalina Trail. There is 16,201 ft / 4,938 m of total elevation change across the trail.

ELECTROLYTES: Bring electrolytes! Although temperatures don't typically climb too high, the Trans-Catalina Trail is very exposed. There is very little shade to be found along the trail and the sun can be intense. Make sure you're bringing electrolytes to stay hydrated.

SUNSCREEN: Bring sunscreen. As stated above, the trail is very exposed. If you're running on a clear day, you can expect to be in the sun for the majority of the trail.

WATER: There are few opportunities to fill up on water along the Trans-Catalina Trail. I carried two 500 ml soft flasks and an additional 500 ml bottle in my bag that I filled up once before leaving Two Harbors for the final loop (I finished in Two Harbors). Whatever you do, just make sure you have enough capacity to remain hydrated between water sources.

PERSONAL LOCATOR BEACON (PLB): There is cell reception on Catalina Island and there are other people out, but carrying a PLB is never a bad idea – particularly on an effort as big as this one. I carry a Garmin inReach Mini. It's small, lightweight, and can save your life.

WATER FILTER: I was told that the water from spigots along the Trans-Catalina Trail is safe to drink, but if you want to play it safe then bring along something like a Platypus QuickDraw for filtering your water – just in case.
For more recommendations on backpacking gear, check out my current gear list or gear reviews.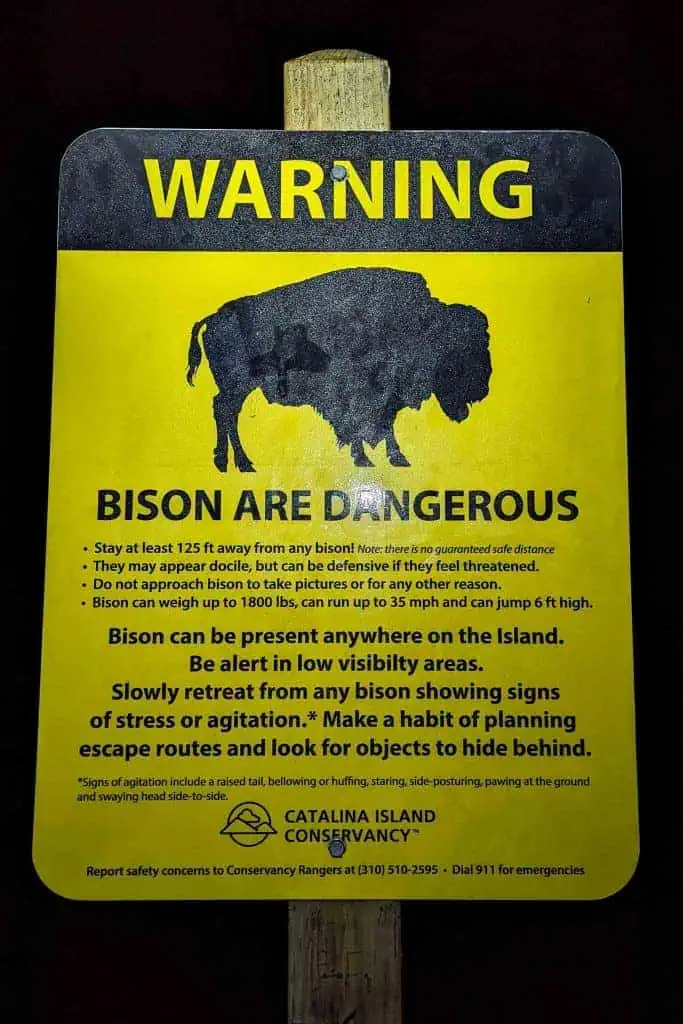 Route Description
Overall, the trail is relatively well marked and easy to follow. I used my phone for navigation whenever my route was called into question. Beginning in Avalon, the trail follows paved roads to Hermit Gulch Campground. It then climbs nearly 1,500 ft / 457 m up to Divide Road (where there's a bathroom).
The trail follows Divide Road before cutting west past Haypress Reservoir and then, more or less, runs parallel to Airport Road past Cape Canyon Reservoir and to Black Jack Campground.
From the campground, the trail descends briefly but sharply before climbing up to the Catalina Airport. North of the airport, the trail joins Empire Landing Road and heads west/northwest before splitting off and descending to Little Harbor Campground – all the way back to sea level.
From Little Harbor, the trail climbs 1,000 ft / 305 m before dipping a bit and continuing to climb. Two Harbors will soon come into view as the trail descends again to sea level. From Two Harbors, you could technically go either counterclockwise or clockwise since the trail does a loop and comes back to Two Harbors to end. The official route is clockwise.
Leaving Two Harbors, the trail enters its biggest climb, from sea level up to 1,709 ft / 521 m. It then descends – at times very steeply – to Parsons Landing back at sea level. Around 1 mi / 1.6 km after Parsons Landing, the trail meets the unpaved and relatively flat West End Road which it follows back to Two Harbors.
Water Sources
Trans-Catalina Trail water sources are fairly straightforward. Along the trail itself, you have five locations where you can get water – there's also the Catalina Airport – just off the trail, where you can also get water (although the airport is very close to Black Jack Campground which doesn't make it much help).
There's also technically a sixth (and maybe a seventh) spot to get water at Parsons Landing (and at Emerald Bay Camp) which I'll cover below. The reliable water sources along the Trans-Catalina Trail are:
Avalon: There are plenty of places – hotels, restaurants, bars, etc. – to fill up on water in Avalon.
Hermit Gulch Campground: There are water spigots with potable water at Hermit Gulch Campground. Hermit Gulch Campground is located within Avalon city limits and is the defacto trailhead for the Trans-Catalina Trail in Avalon.
Haypress Reservoir: I did not get water here, but there should be water in the parking area at Haypress Reservoir (there's a playground and a bathroom here). Google Maps shows a spigot on street view. As with all the water sources, check with Visitor Services to be sure this water can be relied on. The reservoir is 5.6 mi / 9 km from Avalon and 5 mi / 8 km from Black Jack Campground.
Black Jack Campground: There are water spigots with potable water at Black Jack Campground. The campground is 10.6 mi / 17.1 km from Avalon and 8.3 mi / 13.4 km from Little Harbor.
Catalina Airport: The airport is 12.6 mi / 20.3 km from Avalon and 2 mi / 3.2 km from Black Jack Campground (in the direction of Two Harbors). It's just off the trail and will require a slight detour if you wish to refill your water here. There are also food options available at the airport. It's probably not worth stopping here since Black Jack is so close (but do what makes you happy).
Little Harbor Campground: There are water spigots with potable water at Little Harbor Campground. The campground is 19 mi / 30.6 km from Avalon, 8.4 mi / 13.5 km from Black Jack Campground, and 5.2 mi / 8.4 km from Two Harbors).
Two Harbors: Two Harbors is located 24.2 mi / 39 km from Avalon. You'll pass through it once and then do a clockwise loop past Parsons Landing before returning to finish. There's a bathroom near Visitor Services in Two Harbors (map) where you can get water from the sink (or so said the person working at Visitor Services). However, when I passed through Two Harbors, I got water from inside the fire station (map). I asked them for water and they let me inside to refill. If you're starting at Two Harbors, you pass back through after 14.3 mi / 23 km of trail.
Parsons Landing: This camp is located 30.8 mi / 49.6 km from Avalon, 6.6 mi / 10.6 km from Two Harbors heading clockwise, and 7.7 mi / 12.4 km from Two Harbors heading counterclockwise. For those hiking the Trans-Catalina Trail, Parsons Landing is one of the campsites available to stay at – on the far west side of the island. This campsite is on the beach and does not have fresh water available (however, there is a toilet). That said, hikers (and presumably runners) can have water cached here in a locker. You'll have to arrange this ahead of time by calling Visitor Services at +1-310-510-4205. You will also have to pick up a key in Two Harbors from Visitor Services to access the locker. I did not use this service and instead filled up an extra bottle when passing through Two Harbors.
Additional Water Sources: I found a functioning water spigot/drinking fountain next to the trail/road near the intersection of Cove Road and the trail just outside of Camp Emerald Bay. Here's the approximate location of the water source. I have no guarantees as to the reliability of this water source but figured I would include it here. This is at (approximately) mile 31.7 (51 km) – 7.5 mi / 12.1 km from Two Harbors heading clockwise on the trail or 6.8 mi / 10.9 km heading counterclockwise.
There may be seasonal streams or ponds found along the route as well. If you choose to use these, make sure you filter this water.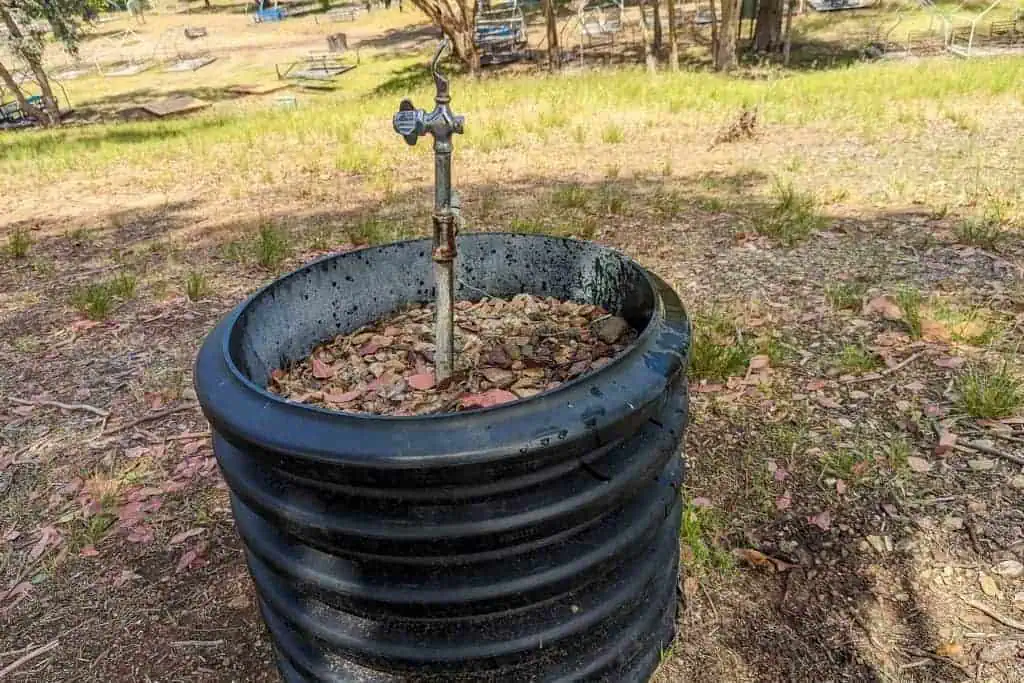 Map
The following is an overview of the Trans-Catalina Trail with landmarks. Note, this should be used as a guide and it is not necessarily 100% representative of what's on the ground (i.e. you shouldn't just be blindly trying to follow this track).
I've included a few alternate routes and tried to label all the noteworthy landmarks along the trail (e.g. the toilets). There's also an overview map of the entire trail available here.
Conclusion
A single-day Trans-Catalina Trail run/hike/adventure is certainly worth the effort. The trail is well-maintained, the island is beautiful, and there are bison (and foxes).
The lack of water sources along the trail is something to be aware of, but also know that the trail passes many roads that are used on a somewhat regular basis (i.e. if you get yourself into trouble, you hopefully won't be too far from a way out).
I'm always looking to improve upon the information and resources provided in these guides so if you have any questions, suggestions, or updates, please leave a comment below or get in touch.
Resources
This page may contain affiliate links, which means at no additional cost to you, I may receive small commissions for purchases made via these links. This helps to pay the bills and keep the site up and running. Thank you for your support!