You are checking a bag at the airport. You have to pay fees. You travel plans become less flexible. You lack mobility. You have to wait at the dreaded baggage claim. You may suffer the even more dreaded lost or damaged luggage. You quite literally, have more baggage. Simply put: checking a bag sucks.
In my travels I go to great lengths to avoid doing so, and have become quite proficient in the art. There are two things that you must ask yourself when deciding whether or not you will need to check a bag:
What do I have to bring?
This should be your first consideration when looking at your packing options, since the inclusion of a single necessary item (again, I would like to emphasize the word "necessary") could automatically disqualify you from being eligible for the Carry-on Club. Here is a brief list of items prohibited from carry-on luggage:
Sharp objects, sporting goods, firearms, tools (exceptions exist), weapons, flammables, explosives, "disabling chemicals" (view detailed list on the TSA website).
Overall it reflects common sense; however, there are items that people commonly overlook and these can create problems – namely, liquids.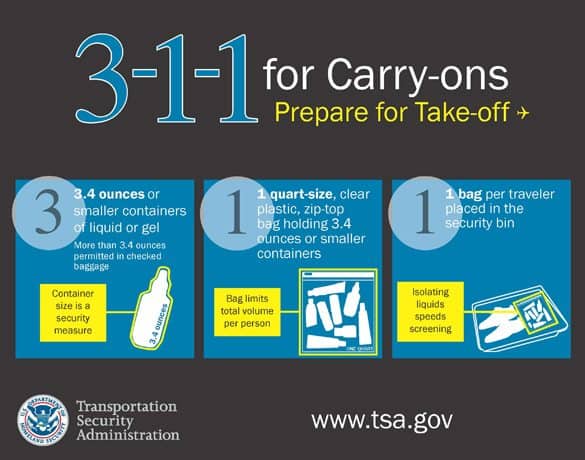 So here is the rule for liquids according to the TSA: all liquids must be in 3.4 ounce (100ml) or smaller containers, and all containers must be put inside of a quart sized plastic bag. That's it. No limit to the number of containers as long as they are all smaller than 3.4oz and they all fit inside your one-quart bag (note: exceptions for medications, baby formula/food, and breast milk exist). Source: TSA website.
If for some reason you feel compelled to travel with gels/liquids, then think about investing in some travel-size containers (like these).
In the majority of cases you should not be limited by the TSA's carry-on exclusions, and if for some reason you must travel with an item that cannot be brought onto the plane, mailing the item to your destination ahead of time is always an alternative to checking a bag.
For more on airport security see: HOW TO: Brisk Through Airport Security.
How long is my trip?
Personally, I am convinced that short of moving someplace (or travelling for the express reason of participating in an activity requiring equipment, ex. scuba diving, fur trapping, snowboarding, war, etc.), you can reasonably pack your belongings into a carry-on (that's right, easy on the shoes, ladies). The key to this is packing smart and making efficient use of the limited space you have available.
According to the airlines you are allowed: one "bag" and one "personal item" (defined to be a backpack, laptop case, purse etc.).
The "bag" is not to exceed 14 x 9 x 22in (23 x 35 x 56cm) or 45 linear inches (114cm).
However, you can get away with a bag slightly larger than this as long as it will still fit into the plane's overhead storage (positioned with its longest dimension perpendicular to the craft – if you take up more than your allotted space, then fuck you). Technically there is a weight limit, but since nobody but you will be handling this bag (unless you're stopped by security), you can get away without having to worry about the weight.
When I travel, my "personal item" (to be placed under the seat in front of you) is largely dependent on how much space I will need in addition to my carry-on bag. For lighter packing or shorter trips, my personal item will simply be my laptop case; however, for longer trips it may be a backpack (which is usually used as my carry-on bag).
For help maximizing your limited cubic space see: HOW TO: Maximize Your Packing Efficiency.
Unconvinced? Think that extra pair of hooker heels, your novelty hunting knife or that $100 bottle of shampoo made from unicorn tears really needs to come on this trip with you? Check out "Why You Should NEVER Check A Bag" for a full explanation as to why this is still a terrible idea.
So, now that you have decided, yes, you would like to forever forgo checking in luggage and assume a more disciplined packing regimen, here are a few tips to make your life easier.
USE WHAT'S AVAILABLE TO YOU
Keep in mind that if you are going to be staying at a hotel there will (usually) be soap, shampoo, conditioner, lotion, and the like made available to you. These items easily eliminate the need to bring many of the liquids or gels that cause problems at airport security. Cheaper hotels or hostels may lack these amenities, but purchasing these items at your destination can usually be accomplished with relative ease.
And don't forget that you can always consolidate necessary liquids (whiskey, shampoo, clean urine, etc. into 3.4oz containers inside a quart-sized plastic bag).
GET CREATIVE WITH YOUR SPACE
One carry-on bag and one personal item can go a long way in accommodating a large amount of luggage, but what if you need just that little bit of extra space? A simple solution to this is to take advantage of the storage in your clothing. Using jacket pockets (in addition to wearing your bulkiest items onto the plane) can free up a considerable amount of space in your luggage.

PLAN AHEAD OF TIME
If you know you are going to be tight on space and you are worried about how you are going to get all your souvenirs back home then think ahead. Pack a few older (or uglier) outfits that you can discard before your return flight (sorry Grandma, I don't know where that silk leopard print shirt got to). Alternatively, you can always mail items to your destination or back to yourself to save on space (OR give some things to a less fortunate companion who, against your best advice, is still checking a bag).
So, to recap:
Find yourself a suitable carry-on bag and "personal item" (a large backpack and laptop case for shorter trips, a roller bag and backpack for longer trips).
Eliminate prohibited items from your baggage and consolidate liquids into 3.4oz containers placed inside a quart-sized plastic bag.
Utilize all your available space, including your clothing's pockets.
Wear your bulkiest clothing onto the plane (a little discomfort is worth not having to check a bag).
Think ahead if you plan to return with more than you left with or will need to ship something.
Consider where you will be staying and what amenities will be available to you (laundry services can greatly reduce the amount of clothing a trip requires).
And that's it! You are ready to begin enjoying life without (checked) baggage.