Starting elevation: 16,863 ft / 5,140 m
Ending elevation: 17,598 ft / 5,364 m
Elevation change: +735 ft / 224 m
Starting oxygen: 54% of sea level
Ending oxygen: 53% of sea level
Distance covered: 2.17 mi / 3.5 km
Time hiked: 2h 00m to EBC (4h 30m roundtrip)
With a belly full of hot water and mediocre pizza (at least something that resembled pizza), I am ready for the final push to Everest Base Camp.
Since I decided to embark on this adventure 27 days ago, this has been the moment I've waited for (I guess that doesn't sound too dramatic, but I hate planning so a month is the best I can do).
For the last nine days I've trekked through the most inspiring and intimidating landscapes I've ever known, met some seriously awesome people, and experienced an entirely new type of adventure (namely, the kind that requires sleeping in a -20°F/-29°C feather bag of sleeping, and being completely winded after walking ten steps).
The trail to EBC starts with a walk back towards the Khumbu Glacier through the incredibly loose sand of Gorak Shep's dry lakebed (it literally feels like I'm wearing shoes at the beach).
Like the hike to Gorak Shep from Lobuche, the trail gently slopes upwards, but the elevation makes the grade a thousand times more intense (mathematically accurate) than it would be otherwise. As I climb, I leapfrog a couple taking an equally absurd number of breathers and photos (or maybe they're just messing with me? Maybe they want to be friends? Maybe they're imaginary? Am I getting altitude sickness?).
Despite the clouds that have begun gathering, it's still a clear day, and I can see all the way down to the Khumbu Icefall (one of the first obstacles hikers up Everest must conquer – after reaching EBC). I should be able to see EBC too, but since there aren't any climbing expeditions on Everest during the winter (because suicide), the usual festival of tents is absent from the glacier.
The trail reaches the top of the ridge and follows the mountain's spine due north towards the cul-de-sac at the end of the glacier. Why do I have such a good view of the glacier? Because I am much higher than the valley where the glacier sits. Great – this means an eventual descent to Base Camp and then a climb on the way back.
Walking along the now flattening out trail, I see something that I haven't seen since all the way back in Tengboche: Everest.
The dark black peak pokes up between Khumbutse and Lhotse, inspiring awe and insignificance (seriously, it's almost 2.17 vertical miles / 3.5 vertical kilometers higher than I am now – that's nuts). Although is appears smaller than both Khumbutse (21,867 ft / 6,665 m) and Nuptse (25,790 ft / 7,861 m), at 29,029 ft / 8,848 m it's significantly taller than both (you know, because science and round Earth).
It reminds me that despite being at the highest elevations I've ever dared venture to, there exists another world of extreme altitudes yet to be explored (seriously, I know nothing).
Finally, I spot a group of hikers on the glacier and I get my first looks at Everest Base Camp (or at least at the place where Everest Base Camp is when there is a base camp).
The trail slopes downwards as I start the long descent from the spine out to the glacier.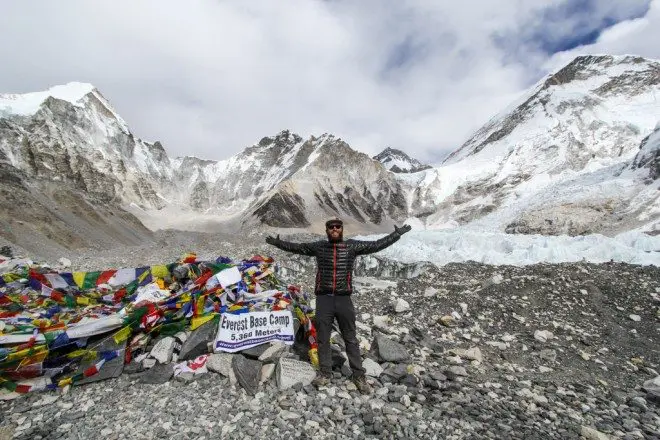 To be completely honest, getting to Everest Base Camp (at least during the off-season) is more about being able to say, "Yes, I have been to Everest Base Camp" than it is about seeing magnificent views or conquering altitude (although the landscape surrounding Base Camp is incredible).
The trail to EBC reaches higher elevations than EBC itself, and contrary to popular belief (and what most people would probably assume), you cannot see Mt. Everest from Everest Base Camp. Nope, the best view you get of Everest is actually the view you get from the trail on the way to Base Camp (pictured above) before you descend down to the glacier (or from the summit of Kala Patthar, which is often regarded as the true goal of an EBC trek – I'll be climbing it tomorrow if all goes as planned).
EBC is marked with piles of stones, dozens of strings of prayer flags, and a few "Everest Base Camp" signs with dates and elevation. In lieu of Everest, you get views of Lingtren (22,142 ft / 6,749 m), Khumbutse (21,867 ft / 6,665 m), and the Khumbu Icefall.
Although I would like to imagine Everest Base Camp as a remote and far off world where I can be completely alone in the mountains, we all know (or at least you do now) that things are not always so easy. EBC is not only crowded (at least at this moment), but all around the camp people have defaced rocks with messages of "HEY I WAS HERE, I'M A DOUCHE!".
Side note: if you do this, fuck you. Seriously, nobody cares that you were anywhere (not even your closest friends and family). Please don't vandalize the nature.
I share EBC with a large host of hikers from all over the world. Each group vies with the others, trying to capture photos unpolluted by hikers (I have opted to instead wait for everyone to leave). Apparently "taking turns" and communicating with each other is a thought none of these people is capable of having (or maybe we can just blame the altitude).
To offer a more realistic look at Everest Base Camp, here are some of the people I am hanging out with.
After forty minutes of lounging about regaining my strength, and finally getting my own photos (because that's why we do things, right? To show everyone else what we did and what a good time we had), it's time to head back to Gorak Shep.
With the exception of the seemingly endless climb off the glacier and back up to the trail, the way back is easy-going and mostly flat or downhill.
The sky has become almost completely filled with clouds for the first time since my arrival in the Himalaya, and it has become noticeably darker than it was on my way out to EBC (the people still hiking out to EBC are going to have a not fun hike back in the dark).
As I hike, I tongue the cut in my mouth that I've had since leaving Namche Bazaar. I'm not a doctor (yet), but I could swear that the altitude is responsible for this thing not healing (in better news, I have just noticed that the vicious leg pain I had for the first half of the trek has disappeared).
I get back to Gorak Shep, make some new Australian friends in the lodge (Australians are officially the majority of the people in the Himalaya right now), and eat my second pizza of the day before going upstairs and crawling into my sleeping bag at 19:00.
At 4:30 tomorrow morning my alarm will be going off so that I can summit Kala Patthar for sunrise. I am looking forward to the summit, but not to the wake-up time or the frigid temperatures that I expect.
I really hope it doesn't snow tonight.
EBC Day 1 | 1.5 | 2 | 2.5 | 3 | 4 | 5 | 6 | 7 | 8 | 9 | 9.5 | 10 | 10.5 | 11 | 12 | 13