The Hayduke Trail has a reputation for being difficult, inhospitable, dangerous, or even deadly. However, after hiking the Hayduke, I can say a lot of this reputation is hyperbole. Yes, some of the Hayduke can be dangerous, but it's the gauntlet of death-defying feats some would have you believe.
As a general rule on the Hayduke, if you find yourself in a situation that feels legitimately exposed or dangerous, you're probably doing something wrong. That is to say, you're probably either missing a more straightforward route or a way to bypass a particular section or you're attempting something you shouldn't be based on the conditions (e.g., attempting to cross a river when it's in flood).
The two spots of note are the short climb just before Red Benches and the drop into Round Valley Draw. I navigated both of these spots by myself and without a rope for pack hauling/lowering. This is not to say that you won't need help or a rope, but rather to say that they're possible without.
Each of the below Hayduke sections is described assuming an east-to-west hike beginning in Arches National Park and ending in Zion National Park. That said, the direction you're hiking has little bearing on making these spots on the Hayduke any easier or more difficult so you can expect to encounter these obstacles heading eastbound as well.
Arches Slickrock Alternate
To escape Courthouse Wash in Arches National Park, you can instead take what's known as the Slickrock Alternate.
This off-trail route (mostly) stays high on slick rock and avoids the wash (which is also an off-trail route). There's one spot on the Slickrock Alternate where the route drops steeply down a cliff. It may look borderline impossible when first approached, but there is a secure way down that doesn't require any significant exposure.
If you find yourself descending here and feeling as though you're one step away from a potentially hike-ending fall or injury, you're probably making things more difficult than they need to be. Stop, reassess, and look for a safer way down if you find yourself in this position.
Honestly, this isn't really that difficult of a section so long as you are careful with your route selection.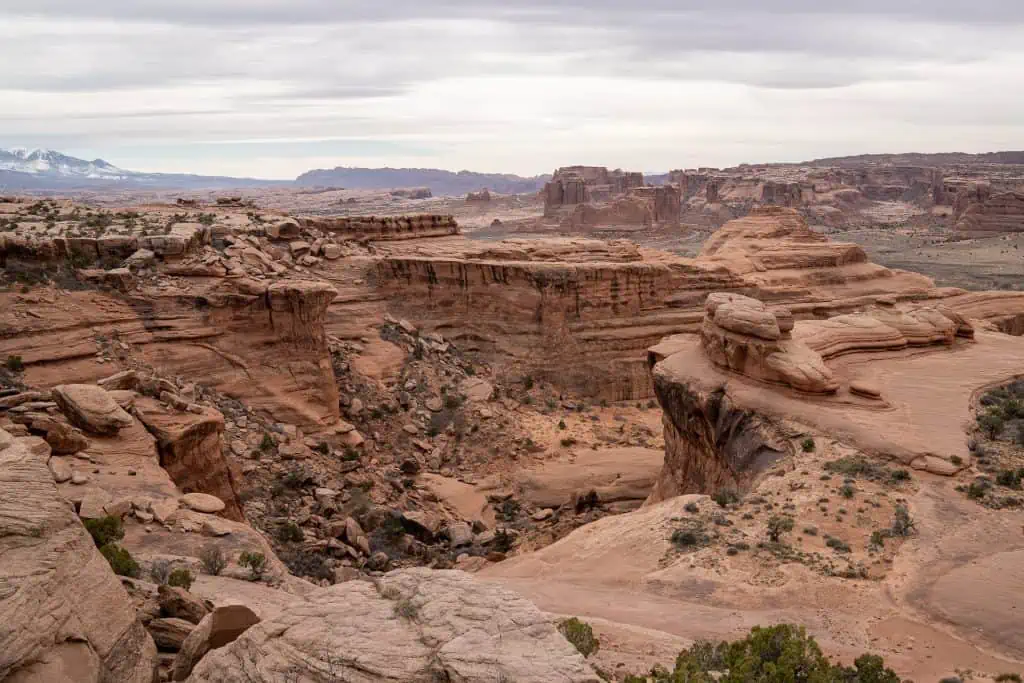 Butler Wash
Nothing too technical, but there were a couple of times toward the end of Butler Wash when it was necessary to use my hands to pull myself up short dry falls.
If you're uncomfortable with any of these small climbs getting out of Butler Wash, you're not going to have a good time later on in the Hayduke.
Honestly, this part is just included here to make this list a little longer. Nothing really to worry about here.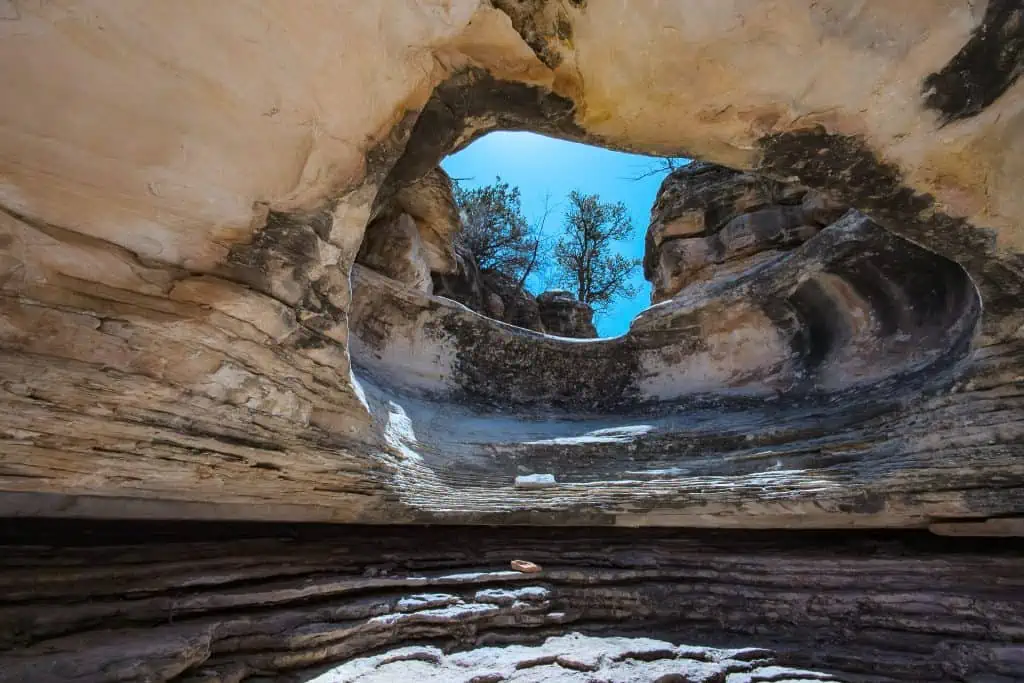 Youngs Canyon
Dropping into Youngs Canyon you encounter a large dry fall that must be bypassed via a climb back up to the plateau. Following this climb, the route steeply drops back into Youngs Canyon.
To reach the canyon floor, the Hayduke briefly enters and descends into a side canyon. Navigating the downclimb in the side canyon is a bit tricky, and it was one of the first spots on the Hayduke where I wasn't sure if I was going the right way.
Always good to remember to not drop down anything you're not going to be able to climb back up. This isn't a technically difficult section of the trail, but it could be dangerous if you forget the aforementioned advice.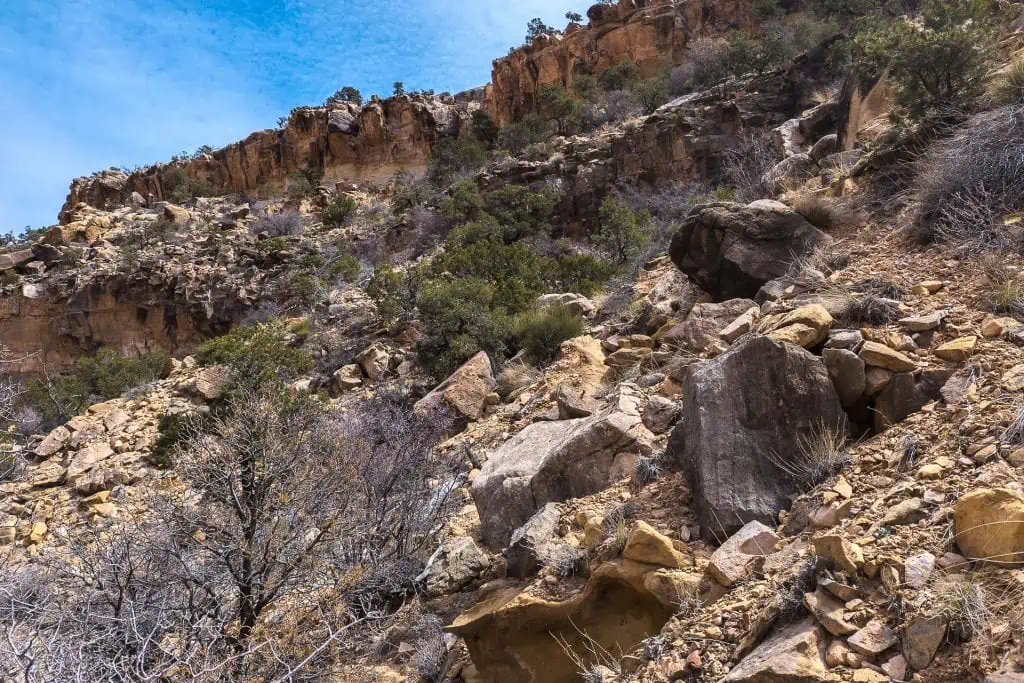 Dark Canyon
Dark Canyon itself doesn't present any technically tricky bits of trail, but it can flood – making the creek uncrossable. You'll cross the creek in Dark Canyon countless times and the water will only get deeper as you progress further west.
I was worried about Dark Canyon during my hike and considered taking the Happy Maze Alternate out of Canyonlands National Park to bypass it. This alternate comes highly recommended by friends of mine. However, I chose Dark Canyon because the Happy Maze Alternate sounds like something I'll make a later trip out of whereas I don't know if Dark Canyon warrants a separate trip.
Shortly after I made it through Dark Canyon, I heard there was a group of hikers who were helicoptered out by Search and Rescue after the creek became uncrossable.
Climb to Red Benches
After crossing the Colorado River via a paved road walk along Route 95, the Hayduke trail climbs to another dirt road.
Hikers follow this for a bit before turning into a wash and heading north to a seemingly dead-end. But there is a way through. After climbing steeply up to a notch (it's fairly obvious where to climb up), hikers encounter a short climb that requires the use of their hands.
This climb cannot be bypassed and may require you to remove your pack.
This is the first objectively tricky part of the Hayduke and is probably what many hikers expect there will be a lot more of on the hike.
I made it up this section without taking my pack off, but I would have been able to toss my pack up ahead of me if I had taken it off (I was hiking solo). This is to say, I did not need a rope for a pack haul or a second person to assist with handing my pack up.
However, I am sure that taking my pack off and tossing it up ahead of me would have made it slightly easier.
Henry Mountains (Springtime)
The Henry Mountains are not a technically difficult section of the trail, but something I feel worth pointing out.
If you're hiking through in the spring (or perhaps incredibly late in the year), you may encounter a frustrating amount of snow in the Henry Mountains. This section involved a lot of screaming on my part. I would highly suggest having some wind pants or rain pants with you for this section (if you aren't already hiking in pants).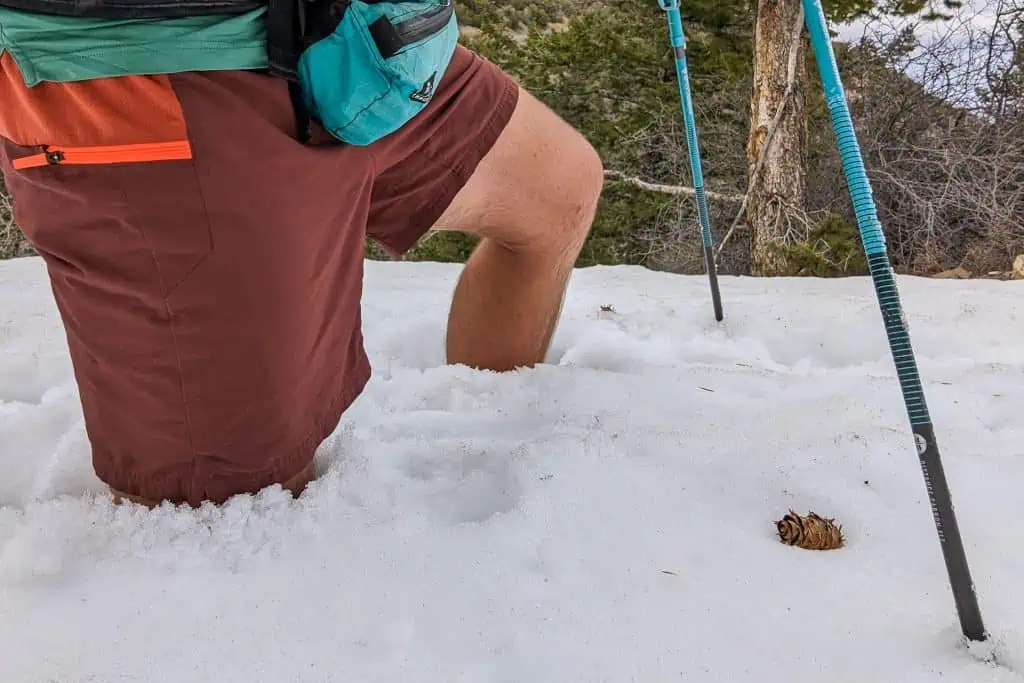 Round Valley Draw
Round Valley Draw is the first true slot canyon Hayduke hikers will encounter on the official Hayduke Trail.
It requires you to drop a significant distance into a slot – around 15 ft / 3 m.
This was the only place on the Hayduke where I took off my backpack to bypass something (I dropped it down ahead of me). If you aren't comfortable stemming down and then jumping down a small distance at the end, you may have trouble here.
Whatever you do, do not throw down your pack before you're confident you can make it down. That said, there is a way to bypass the drop (or climb) into Round Valley Draw. After this bypass, you will be able to hike up and retrieve your pack if you make the mistake of dropping it down.
It should be noted that following the initial drop into Round Valley Draw there are a few more drops (not as large) that must be navigated and that could prove a bit tricky.
Remember that you're in a slot canyon here with flash flood potential; always check the weather before entering slot canyons.
Bryce Canyon National Park (Springtime)
Again, this is not a single point of difficulty but rather something that could be an obstacle if you happen to hit it in unfavorable conditions (as I did).
Bryce Canyon National Park can hold snow into the late spring and can catch hikers unprepared (as it did me). The northernmost part of the trail through Bryce – in the Bryce Amphitheater – will likely be mostly free of snow or, at least, will have trails broken through the snow. This is the most popular area for day hiking in the park.
However, continuing further south along the Under the Rim Trail, the trail becomes less well-traveled and it climbs higher. There's a chance hikers will find snow up here if they're early enough. The photo below was taken on April 28.
Fall Hayduke hikers should take note that although it's unlikely to find lingering snow in Bryce Canyon National Park, it can be incredibly cold depending on how late you're traveling through the park. And there's always the chance for an early snowfall – something else to be aware of.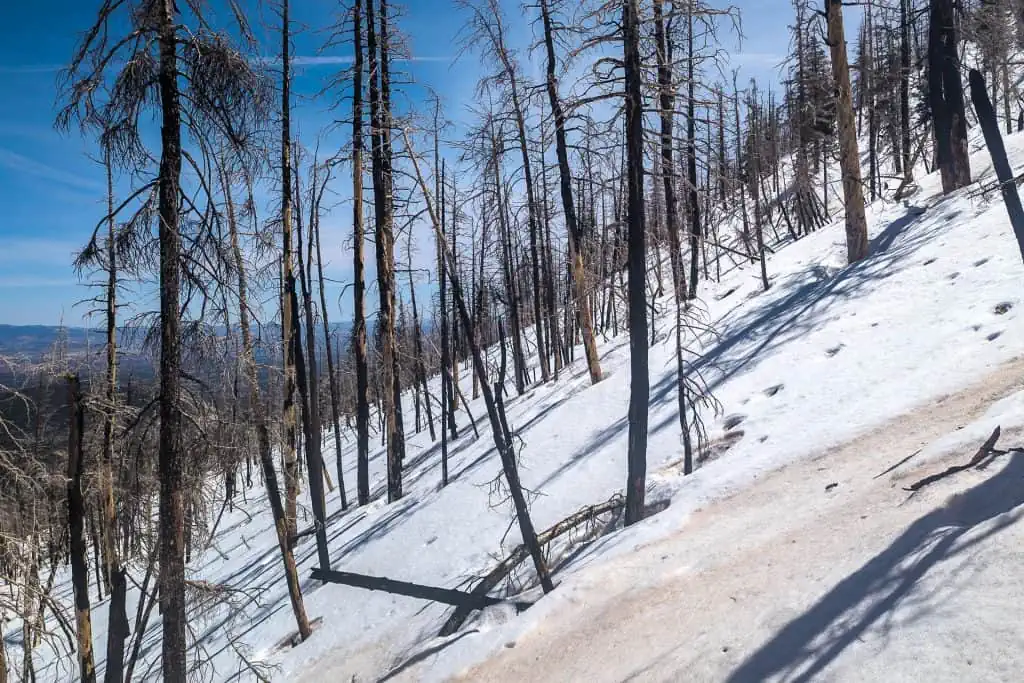 Buckskin Gulch
The Hayduke travels through Upper Buckskin Gulch before taking a hard turn west and heading out to House Rock Road via Wire Pass.
Upper Buckskin Gulch is a slot canyon with flash potential.
Despite not being as long or as narrow as the section of Buckskin Gulch south/east of Wire Pass, there's still risk here. This section is not at all technically difficult but is potentially dangerous in the right conditions.
The year I hiked the Hayduke there were hiker fatalities in at least two separate incidents in Buckskin Gulch. I believe both these were in the lower section of the slot, but most of that water comes through the upper section as well.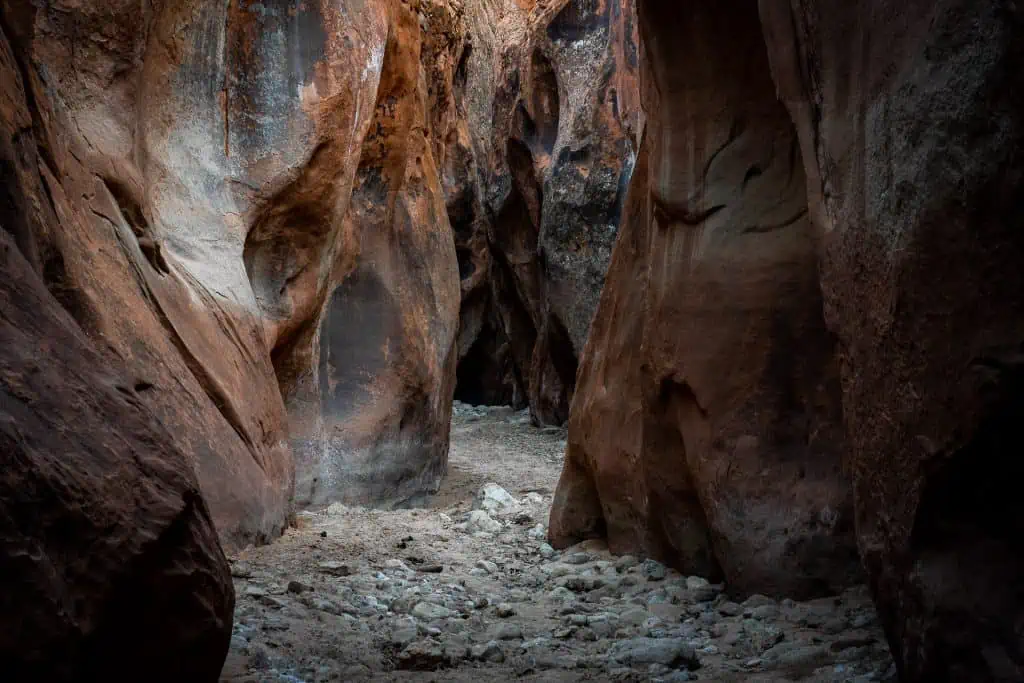 Little Colorado River
After hitching across the Colorado River past Nankoweap, Hayduke hikers will have to ford the Little Colorado River (LCR). The landing for boats at the LCR is on the north side of the river; the trail Hayduke hikers need to access (the Beamer Trail), is on the south side of the LCR.
The Little Colorado River is generally not too difficult to cross, but the water can be swift-moving. Depending on the conditions, it may also be cloudy meaning the bottom won't be visible.
I had to attempt crossing in two different spots before making it across the cloudy LCR. The water was moving swiftly and got up to my mid-thigh.
Saddle Canyon
This is one section of the Hayduke Trail I had to bypass due to the water level in Tapeats Creek; I hope to get back to this section soon.
Saddle Canyon – apparently – requires dropping down into a series of pools of unknowable depth. Be sure to have your valuables waterproofed for this one.
Despite not having hiked it (yet), I believe it's a noteworthy section of the Hayduke. I will update this post as soon as I've completed this section.
Kanab Canyon
Kanab Canyon is a wide and gradually climbing canyon Hayduke hikers follow up from the Colorado River to exit Grand Canyon for the third and final time of the trail.
The canyon doesn't look particularly threatening, nor does it pose any technical challenges as far as navigating it goes. However, Kanab Creek can flood and Kanab Canyon is susceptible to flooding. Like Buckskin Gulch, Round Valley Draw, and any other narrow desert passageway or wash, Kanab Canyon should be avoided when in flood or when flooding is possible.
You can check the current and historical levels of Kanab Creek via the USGS sensor at the Colorado River here.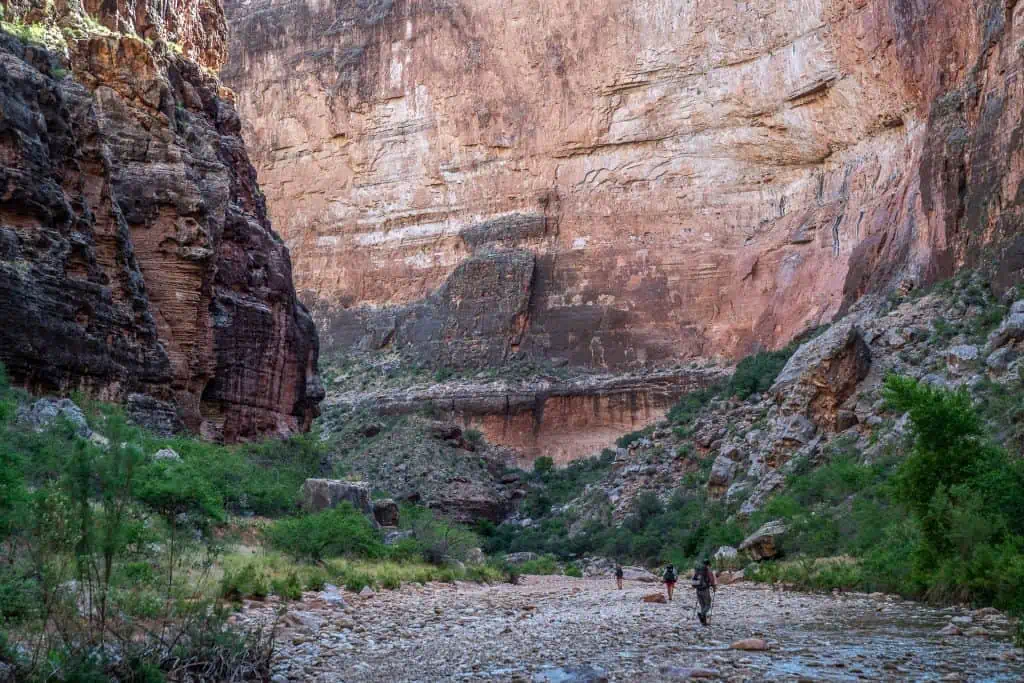 This page contains affiliate links, which means at no additional cost to you, I may receive small commissions for purchases made via these links. This helps to pay the bills and keep the site up and running. Thank you for your support!