Starting elevation: 9,100 ft / 2,800 m
Ending elevation: 8,563 ft / 2,610 m
Starting oxygen: 72% of sea level
Ending oxygen: 74% of sea level
Distance covered: 4.66 mi / 7.5 km
Time hiked: 3h 00m
For some reason I had the expectation that it would be cold mid-winter almost two miles (3.2 km) up in the Himalayas – what a foolish thought. I strip down to shorts and a shirt before setting off into the town of Lukla (maybe birthday suit hiking is allowed here? Better not press my luck this early).
Taking what appears to be the main looking path (aka the widest), I follow it north, wrapping around the eastern side of the airport. The small town is crammed with businesses, but it's quite devoid of people. I pass a giant yak basking in the morning sun and greeting customers on the steps of a cafe and wonder if he is for eating (he looks delicious).
Still not knowing how to go about getting the permits I need, I test a shop owner's knowledge of the subject and he fails miserably (not his job, but disappointing nonetheless). Instead of TIMS Card and Sagarmatha National Park permit information, I end up with four candy bars. Success?
It's before noon and my 3.7 mi / 6 km hike to the village of Phakding seems almost not even worth it. Maybe I should go farther today? But then again, what's my rush? Nothing, that's what. Phakding it is. Let's walk.
It isn't long before I encounter my first organized trekking group stretching across the path as if to intentionally prevent my easy passing. Falling in line and slowly advancing with each break in formation, I turn to my right and meet Bain. Here from Australia with his wife Sara, Bain is the first of many Australians I will meet on this trek.
We talk the usual hiker small talk, but as the group comes to a halt I take the opportunity and scurry past to the sound of someone yelling for me to wait. Assuming that this must be the group's guide thinking that I have jumped ship, I ignore the calls and continue walking. Moments later a hand appears on my shoulder.
Turning around I come face to face with not a guide, but rather a police officer. Perhaps I should have listened after all. "Police checkpoint," he says to me. Police checkpoint? Okay, sure.
I follow him back to the inconspicuous shack of a police outpost and surrender my passport. "What is your camera? Canon? Nikon? Do you have smartphone?" Why this information is relevant I am not told, but I decide that it will be used to identify my body should I fail my mission to reach Base Camp.
Escaping police custody I exit an archway at the end of town and begin my hike up into the Himalayas – with a nice long downhill. I'm not going to enjoy this on the way back, but for now, it suits my needs nicely (the threshold for "meeting my needs" is quite low).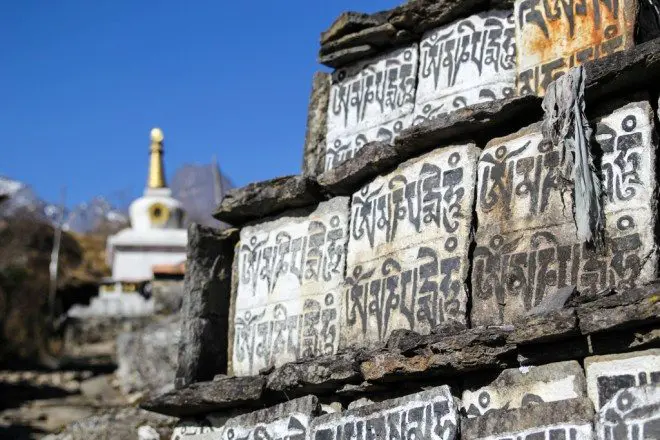 The weather reports leading up to my arrival promised rain and snow, but the infinitely blue sky laid out before me tells a different story (never trust the forecast in the mountains, or anywhere for that matter, those meteorologists are tricksters).
The trail forks as I encounter a massive black boulder emblazoned with the mantra of Avalokiteshvara in huge white letters – a mani stone. I recall that you are supposed to walk a certain way around these (or something like that), but I now have no idea what constitutes proper protocol.
"Do you know what the deal with these things is?" I ask two hikers who have opted to snack break nearby. No luck. I guess I will just have to accept the 50% chance that I will be a disrespectful foreign pig (still better than the near 100% odds I have in Japan).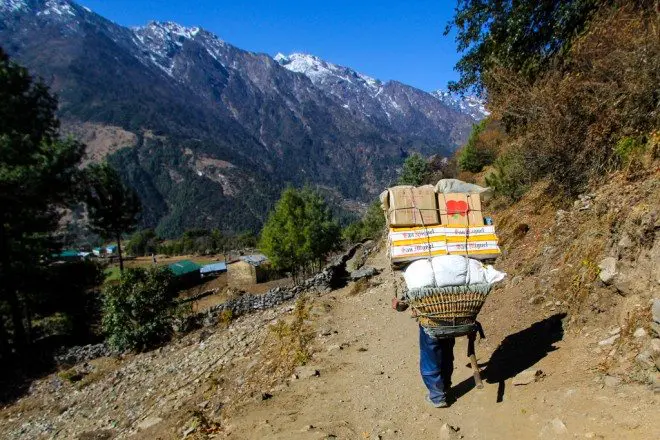 Following the trail requires zero attention. It is wide enough to drive a car down and crowded with trekkers, guides, and porters. This is the low season?
Every so often I pass a lone porter carrying a mammoth load of supplies up the mountain. Some of them are well into their golden years and are carrying as much as 175 lbs / 80 kg using only a strap around their head and a rudimentary walking stick. Elsewhere, I find children running up and down the mountainsides in nothing but sandals.
Though the dichotomy between free-roaming children, beastly porters, and over-equipped trekkers entertains me quite a bit, it also does a lot to discount the whole "epic adventure" angle of the trek.
I am such a pussy.
Speaking of bodily orifices, I am already regretting my decision not to linger in town and expel last night's demons. Time to complete my new (and very urgent) side quest.
Passing through the village of Ghat I spark a conversation with a local with the hopes of being able to use his bathroom (the amount of space for pulling over and digging has been nil thus far).
Chewang turns out to be a really nice guy and invites me to hike down to Jiri and bus it with him to Kathmandu instead of flying back. Had I not already purchased my return flight and had I more time, I would definitely accept his offer (this is why having plans is awful).
Continuing through the village (comprised of no more than a dozen buildings), I have already observed a reoccurring theme in the Himalaya. It seems that the words "Buddha", "Eco", "Everest", "Sherpa", and "Trekkers" can be used to preface just about any place of business – especially lodges.
Now past Ghat, it is not long before I encounter my first "Phakding" sign. However, immediately before reaching Phakding the trail forks, and after taking two steps in the wrong direction, someone emerges from the lodge on my left to correct my mistake. So helpful these people are. (Phakding is up to the right, not left over the rusty looking suspension bridge).
Having arrived with much too much daylight left, I don't know what to do with myself. Slowly strolling through town I find a nice Nepali man seated outside the Buddha Lodge. He turns out to be the owner and I ask him for permission to camp outside (free of charge).
It takes some convincing, but I am finally able to persuade him that I am serious about sleeping outdoors and he is fine with my crashing (I didn't get this fancy new sleeping bag for nothing). He offers me a seat and I join him for a pizza and some lemon tea (I don't typically drink tea, but Nepali tea is delicious – their secret is heaps of sugar).
I take a walk around the town and realize that this place may be even bigger than Lukla. Shops, restaurants, lodges, bars, and homes line the street (yes, there's really only one) for as far as I can see. The offerings of Phakding include everything from supplies and lodging to pool and reggae (those are on opposite ends of some spectrum, right?).
After meeting a few more trekkers around town and realizing that the sun sets much earlier when surrounded by the largest mountains in the world (which equals cold), I head back to the Buddha Lodge for some pizza, popcorn, and conversation with Aussies all whilst huddled around a poop burning stove in the middle of the lodge.
An hour later and it's time for bed. I head out back and crawl into my sleeping bag really hoping that it doesn't decide to rain tonight.
Tomorrow it's off to the (Everest Base Camp) famous Namche Bazaar.
Any for those of you wondering, I did come across an answer to the mani stone's riddle: you walk clockwise around them (so you keep to the left).
EBC Day 1 | 1.5 | 2 | 2.5 | 3 | 4 | 5 | 6 | 7 | 8 | 9 | 9.5 | 10 | 10.5 | 11 | 12 | 13