The SANDMARC Pole (Compact Edition) and the SANDMARC Carbon Grip are GoPro accessories that make taking pictures of myself (and of other things) a little bit easier.
I know, an "action cam pole" is really just a fancy name for a selfie stick, but to be honest, sometimes it comes in handy – especially since I'm usually out in the mountains by myself (the amount of effort required to set up my camera on a tripod and then take a photo of myself is typically far more than I am willing to expend).
The Specs
Pole material: Waterproof aluminum
Grip material: Rubber
Closed length: 10 in / 25 cm
Extended length: 25 in / 64 cm
Weight: 7 oz / 198 g
Color: Black
MSRP: $30
Material: Carbon fiber
Length: 6.3 in / 16 cm
Weight: 3.2 oz / 91 g
Color: Silver/Black
MSRP: $30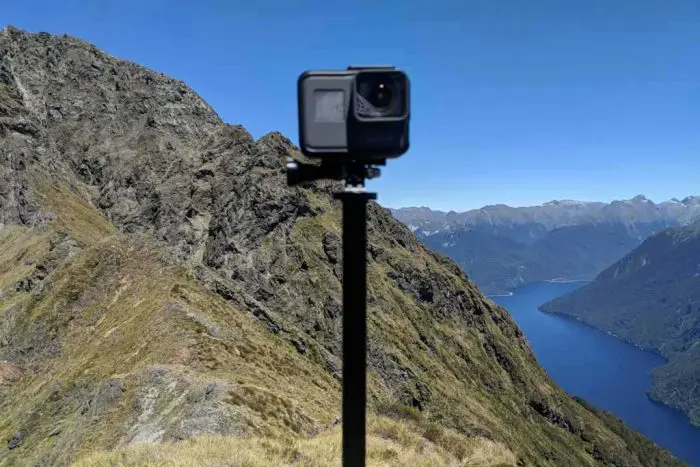 The SANDMARC Pole (Compact Edition)
THE GOOD | The SANDMARC Pole (Compact Edition) lets me take photos that I would not be able to with just my arm and my camera – or even a tripod. It also allows my GoPro nearly 270 degrees of flexibility and can easily be used to take photos of me or of what's in front of/around me. I often found myself using the pole to stabilize my GoPro and I was also happy with how quickly I could extend or shorten the pole.
THE OKAY | I've used the SANDMARC Pole (Compact Edition) in the water a couple of times now, and have found it incredibly difficult to dry. No matter what I do, the next time I extend the pole, it is wet. This doesn't necessarily affect performance, but it's a bit bothersome. In the same vein, the screw at the top of the pole where you attach your camera has rusted. Again, performance is unaffected, but an anti-rust coating probably wouldn't hurt.
THE BAD | This thing is heavy. Sure, if you're using this for something other than ultralight travel/backpacking, the 7 oz / 198 g probably isn't going to mean much to you. But for me, every bit of weight matters and I don't know that I can justify carrying this pole around with me for good. To be honest, it's probably going to be replaced by something I fashion out of pipe from a hardware store, but it will definitely remain in my inventory for trips and/or activities that don't require me to keep my weight down (SCUBA diving, snowboarding, jumping on trampolines, etc.).
The Sandmarc Carbon Grip
THE GOOD | The SANDMARC Carbon Grip makes stabilizing and/or taking photos with a GoPro easy (because holding a GoPro in your hand and recording or photographing is just bad form). It also floats which made my kayaking trip a lot more comfortable. I have not used this diving, but I would expect it to perform well underwater as well. The bottom of the grip also has a screw mount that lets you attach your GoPro (or another camera) to a tripod or device of your choosing without first removing it from the Carbon Grip.
THE OKAY | The Carbon Grip is nice, but I found myself using the pole instead since it can do basically everything the grip can except float. Sure, the pole is more than twice the weight, but it also extends and lets me get shots that I can't get with the grip alone.
THE BAD | The top and bottom bits of the grip both come off rather easily and it's not too difficult to separate the grip into three pieces: the carbon fiber tube, the top cover, and the bottom cover. It also is quite expensive for what it is. Yes, it's made with carbon fiber, which is an expensive material, but it's the same price as the compact pole (which I would recommend over this 100% if weight is no issue).
Who Are They For?
I would certainly recommend the SANDMARC Pole (Compact Edition) to anyone looking for an action cam pole (aka selfie stick) who is engaged in activities that do not require you to pay attention to the weight of all the objects you are carrying.
The SANDMARC Carbon Grip would be a great option for SCUBA diving or for anyone looking for a light(ish) means of securing a GoPro (because holding a GoPro in just your hand isn't the greatest way to capture footage (seriously, it's basically like you are required to have some sort of stick to use a GoPro effectively).
Check out the SANDMARC Pole (Compact Edition) or SANDMARC Carbon Grip and let me know what you think in the comments.
This page may contain affiliate links, which means I may receive small commissions for purchases made via these links at no additional cost to you. This helps to pay the bills and keep the site up and running. Thank you for your support!