Kongma La is the easternmost pass of Nepal's Three Passes Trek and is generally considered to be the most difficult of the three (but don't let the word difficult scare you).
The Three Passes is commonly hiked in a counter-clockwise direction (although it can be hiked clockwise as well) which makes Kongma La the first obstacle for trekkers. At 18,209 ft / 5,550 m, it's also the highest point on the Three Passes Trek (it's even higher than Everest Base Camp).
A lot of people who get spooked by "the most difficult pass" choose to skip Kongma La and follow the trail toward Everest Base Camp before splitting off to Dzongla (before Lobuche) on the eastern side of Cho La (the middle pass). I strongly encourage you not to do this (it's the "Three Passes Trek", not the "Two Passes Trek", after all).
Kongma La Stats
Height: 18,209 ft / 5,550 m
Distance: 6.6 mi / 10.62 km
Nearest village to west: Lobuche
Nearest village to east: Chukhung
The western side of the pass is much steeper than the eastern side.
Between the pass and the village of Lobuche (to the west), trekkers need to cross the Khumbu Glacier.
You can opt to further acclimatize by taking an extra day to hike up Chukhung Ri (just next to the village of Chukhung), which is nearly the same height as Kingma La.
A kongma is the Nepali word for a species of mountain pheasant that lives in the Himalaya.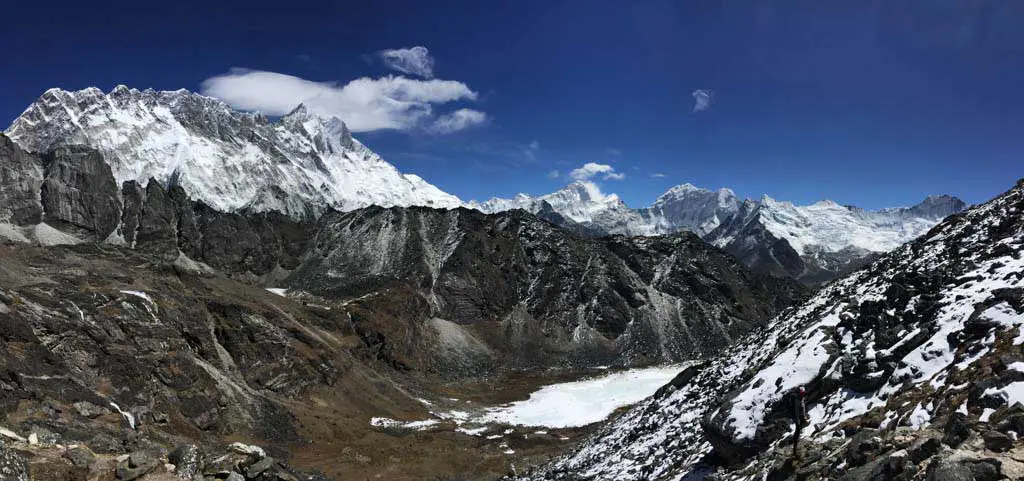 How Difficult Is Kongma La?
This question of difficulty scares a lot of people into taking the "Two Passes" option instead of going over Kongma La.
It can be tempting to follow this alternate route since most of the people you will be meeting during the first half of your hike will probably be going to Everest Base Camp and so after Dingboche, they will all be heading in another direction. Going off on your own can seem scary (aka exciting), and all of the doubt cast by know-nothing fear mongerers can, sadly, dissuade a lot of hikers from attempting Kongma La.
The answer to the question of "How difficult is Kongma La?" is, of course, subjective, but I will try to answer it as best I can. I would tell a friend (that's you) wanting to know more about Kongma La that the route over the pass is challenging and that much of this challenge comes from the length between villages (the longest of the trek) and the elevation.
Kongma La is not a technical pass and does not typically require any special equipment (crampons, ice ax, sled dogs) to get over.
I've been up Kongma La twice, once in late December and once in late March. Both times, I heard plenty of fear mongering in Dingboche and Chukhung beforehand – mostly about how much snow and ice there was on the pass. Both times I found the trail easy to follow and free of ice/snow (including the top of the pass).
This is not to say that there's never snow and ice on the pass, but instead that conditions can change dramatically with the seasons or even the day.
Unless someone has quite literally just come down from the pass that day (or maybe the previous day), you should take anything they say to you with a heaping spoonful of salt (even if the person telling this to you is someone's guide – guides sometimes manipulate their clients into doing less demanding hikes by scaring them with promises of dangerous conditions).
If you're really having doubts, I would suggest that you at least attempt the pass; worst case, you turn around and head back down to Chukhung if you find it too sketchy (ignoring the actual worst case which is that you die alone in the mountains).
The Route Over Kongma La
Heading in a counterclockwise direction, the Three Passes Trek and the Everest Base Camp Trek are the same until Dingboche.
Most people stay two nights in Dingboche to acclimatize. Post-Dingboche, EBC trekkers head northwest past the village of Duglha before continuing up to Lobuche. The Three Passes Trek heads northeast from Dingboche up a different valley to the village of Chukhung.
Following a traditional Three Passes Trek itinerary (if you've flown into Lukla), will put you in Chukhung on your seventh day of trekking. If you're feeling ambitious, Kongma La can be done from Dingboche instead of Chukhung, but this makes for a long and challenging day (though not an impossible one).
However, if you have time, I recommend a trip up Chukhung Ri from Chukhung after leaving Dingboche to help acclimatize and because the top of Chukhung Ri is awesome (more on Chukhung Ri here).
The route over Kongma La is entirely above the treeline and it heads northwest from Chukhung.
Finding and following the trail is not difficult in good weather. Heading west, you cannot see Kongma La until you're nearly there, so do no be fooled by anything beforehand or you'll be very disappointed.
Once you reach the pass, the way down (assuming a counterclockwise hike) is basically a very steep scree chute (aka it's a bunch of loose and sliding rocks). You can see Lobuche to the west from the top of Kongma La (you cannot see Dingboche to the east), and you can also see the Khumbu Glacier which you will have to cross before getting there.
"Crossing the glacier" is another thing that scares people doing the three passes trek, but the route across the glacier is not difficult to follow and cairns mark the way in some of the more tricky spots. You aren't going to be swallowed up by a huge crevasse that unexpectedly opens beneath you.
Final Thoughts On Kongma La
As of writing this, I've been over five high passes in Nepal, and Kongma La is my favorite.
If you're planning on hiking the Three Passes Trek (or even if you're planning on hiking to Everest Base Camp and you've got a couple of days to spare), don't write off Kongma La as "too difficult" or "too dangerous".
You can read more about my trip over Kongma La during my Three Passes Trek here.
If you have any questions, comments, or suggestions to improve the information in this post, please leave a comment below.