Having never been overnight backpacking before in my life, you would be correct in assuming that there was (and definitely still is) a lot about the outdoors and the Pacific Crest Trail that I understood little to none of.
Fortunately, I had plenty of time to learn whilst out thru-hiking the PCT.
It didn't matter if I was discovering new and exciting food combinations (aka that you can wrap literally anything in a tortilla with some cheese and Sriracha and it tastes remarkable) or having sudden geological revelations and realizing that I can accurately predict where to find rivers, trails, and viewpoints (and by "accurately" I mean, "a couple of times").
A lot of people think you need to be some level 100 hunter with years of experience to survive an ordeal like the PCT, but the truth is that you'll either learn and adapt quickly, or learn that you don't actually want to hike the trail (because you'll probably die).
The following is a non-exhaustive list of things I learned on the Pacific Crest Trail. The truth is that many of these skills (especially those related to making poo), are incredibly useful beyond the context of the backcountry.
It's difficult to imagine how I survived without the following knowledge and skills before turning into a vagrant.
1. You can wipe your ass with one sheet of toilet paper – multiple times.
The bathroom situation was something I was very concerned about prior to stepping foot on the PCT. Always having toilet paper suddenly became one of my top priorities (because I could not bring myself to embrace the bidet like our dear friend Appa). However, since toilet paper weighs something and since everyone on the trial is always crying about being ultralight and carrying less, this is one area weight can be saved – not a good idea. This led to me running low on toilet paper quite a few times, and having to use what I had very carefully.
However, in a sudden moment of clarity, mid-wipe somewhere in the California desert, it became clear to me that 90% of toilet paper we use is actually just to keep from getting poo on our hand. Really only 10% does any actual wiping. What does this mean? It means that with careful folding and pinpoint accuracy, one sheet of (hopefully not single-ply) toilet paper can be used for multiple wipes.
2. You can pack out cheese.
By packing out cheese I mean you can bring it along in your pack without fear of it spoiling from not being refrigerated (although there's a chance this is completely inaccurate – in my experience this works). I went nearly the entire desert without knowing this, and when this cheese-sorcery wisdom was finally shared with me, it damn near blew my mind (thanks, Bunny Slayer). Packing out cheese in warmer temperatures does lead to it becoming incredibly sweaty (Ziplocs are your friend), but cheese does well to keep its shape in the higher elevations and colder sections of trail. I packed out everything from cheddar to pepperjack (usually 2 lbs / 900 g at a time) and never had a problem with the cheese spoiling or turning bad (because there's nothing worse than evil cheese). Then again, I did also usually consume it incredibly quickly (as in cheese for every meal).
3. How to always know what direction I'm going.
I thought I had a decently tuned sense of direction before the PCT, but that was based on my experience in familiar urban areas – not the wilderness. It's hard to say precisely when this shift occurred, but now I nearly always have an idea of which direction I am heading (as in north, south, east, or west); and if I don't it causes me a bit of anxiety (maybe I should start carrying a compass). You may think that on the PCT hikers are simply always going north (or south), but the PCT actually travels in all four directions regardless of which border you start from (I'm looking at you, large westward loop in NorCal).
4. You can out-hike mosquitoes.
My god, do I hate mosquitoes. Seriously, we need to just wipe them out as a species already. That being said, if I didn't hate mosquitoes before the PCT, I certainly hate them now. Fortunately, I learned that you can out-hike a mosquito swarm; so long as you're moving, the bastards can't bother you. According to our friend the internet, the average mosquito can only fly 1.5 mph / 2.4 kph – far slower than a normal hiking speed (so long climbing isn't involved). However, just because mosquitoes can't fly as fast as you, doesn't mean that they won't follow you. As soon as you stop, be ready for the swarm to shortly follow.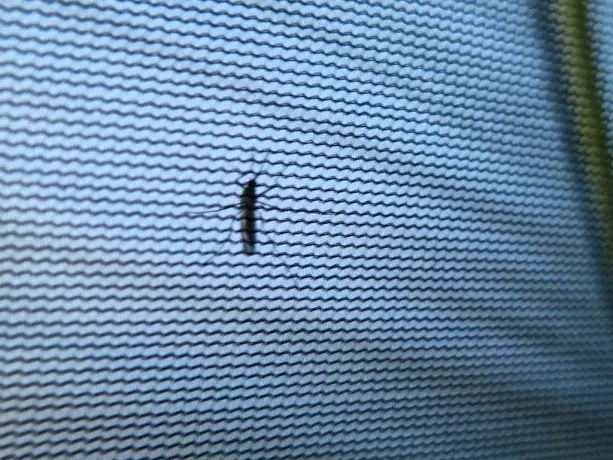 5. You can't out-hike gnats (but you can outrun them).
You may have found the speed of mosquitoes comforting, but gnats, unfortunately, are another story. These horrible creatures (who insist on flying around your face and trying to make their way into your every moisture-filled orifice), you cannot out-hike. For miles at a time, they will fly around you just for the hell of it. But there is good news: you outrun gnats. The bad news? Just like mosquitoes, they'll pursue. Once you return to a comfortable hiking speed, they'll be back in your face trying to ruin your life. For me, Northern California was the most hellish and gnat-filled section of the trail, but I'm sure it can happen anywhere.
6. Bears are just big raccoons.
A big concern of many hikers before getting involved with an adventure like the Pacific Crest Trail has to do with our friend the bear. Bears are often painted as raging killers out for hiker blood, but this is not the case (and there are far scarier things out there). Bears are lazy creatures (much like us humans) and they are interested in quick, easy scores (e.g. your backpack and its delicious people food – not to be confused with people being eaten as food). Bears rarely actively stalk and kill their prey, preferring instead to forage and pick up after others. Also "getting between a mother and her cubs", although held up as the "you will be attacked" scenario, is actually an incredibly difficult place to find yourself in – so stop your worrying.
7. Fish love cheese.
Fishing was never something I had any particular interest in (except for maybe deep-sea fishing one day – that sounds awesome), but on the PCT I learned that fishing can not only a source of excitement (because forms of entertainment are limited), but it's practical as well (because food). Don't have enough food? Sick of dehydrated mashed potatoes? Want to kill something? Go fish! And with just a hook, some line, and a stick you've got yourself an ultralight fishing pole. But what about bait? Cheese. It turns out that Sierra trout love cheese (which makes sense because cheese is delicious). Build yourself a campfire, roast up your catch, and forget about all those miles you didn't and/or have to do (and then eat some cheese).
8. How to properly squat and poop.
Really, more pooping? My grandma is not going to be pleased with this post (sorry Nana). Yes, you'd be amazed how much you can learn about bodily functions out in the wilderness. The poop squat is not as easy as you may think. For one, you need to keep your feet flat on the ground (as in your heels), and for two, you need to keep from pooping into your pants (not to be confused with pooping your pants). My near five months on the PCT did well to prepare me for the squatty potties of Japan (because not everywhere in the country has space toilets). Here's my first and second attempts at explaining how to properly execute the backcountry squat. Practice makes perfect.
9. How to know precisely how fast I'm moving
So when you're walking down the street, up a mountain, or briskly away from a suspicious looking individual late at night, are you aware of how quickly you're moving? Can you accurately quantify your speed? Can you calculate how many hours it's going to take you to reach the next flushable toilet? After hiking the PCT, I am now not only acutely aware of my walking pace, but I am relatively accurate at guessing how quickly I am moving. On-trail this becomes particularly useful for predicting when you'll arrive places, and whether you'll need to run to make it to town before the store closes (because you have an addiction and need your fix).
10. Practice makes perfect
Oftentimes it's frustrating to begin doing something new, such as taking up an instrument, learning a new language, or joining your local exotic dancing group. I still remember my first day on the PCT – it was one of the worst (at least at the time). Before day one, the farthest I had ever hiked had been something like 8 mi / 13 km. Running? Maybe 9 mi / 14.5 km? That first day on the PCT I took nearly 14 hours to complete 20 mi / 32 km (how and why I set that as my goal for day one is beyond me). However, before long twenty-mile days became the norm, and by the end of the trail I felt like I was slacking if I didn't do thirty miles in a day. Seeing the results of the work put in over the course of the PCT is a truly rewarding part of the trail experience.
11. How to lance a blister.
If you hike the PCT then you are almost guaranteed to endure some blister epochs (unless you have feet made of cloth, leather, or adamantium). People deal with their blisters differently, and although my primary strategy was the "ignore them and they'll go away" route – things didn't always work themselves out as quickly as I would have liked. The omnipresent (threat of) blisters meant that my problem would not simply disappear if ignored (this is also the case with ass chafe – you need to sleep that shit off). Thankfully with a safety-pin and lighter, you're basically a backcountry surgeon, and you can lance, drain, and tape over your blisters. Many hikers also "thread" their blisters during the night by stringing a piece of thread or floss through them before bed and allowing them to drain and breathe during the night. I was never up for this (partly because nobody explained to me that you leave a large bit hanging out on either side for easy removal), but it was probably just because I'm lazy.
12. How to overcome fear.
Yeah, so I'm scared of things – nothing wrong with that? What's that? You're not scared of anything? Then maybe you're scared of being scared of something! BOOM! How'd you like that truth bomb? Okay, but really, the PCT seriously forces you to deal with a lot of things that you may not be comfortable with (and this is not limited to pooping in a hole of your own making). Did I really learn to overcome fear? Not really, since I am still scared of the dark (and Japanese barbers), but now I know that I can face and deal with my fears, no matter hot irrational they might be.
13. I'm not as picky as I thought
It didn't take long for me to go from wiping myself down with wet wipes every day and ensuring that no piece or my food ever got a spec of dirt on it, to rarely bathing – even when I had the chance – and eating things I found on the ground (not scat). I thought it would be difficult for me to deal with some of the limited food selections at some of the smaller resupply points, but it turns out that when you're starving and have the added benefit of hiker hunger, your brain is really in no position to tell your stomach what it wants. Since I have yet to discover that I have any food allergies, I simply took whatever was offered to me, oftentimes without even asking what it was first (although in retrospect, I probably should have asked about those mushrooms).
14. All about physical geography and geomorphology.
Physical geography and geomorphology? What the hell does that mean? It basically means I learned a lot about the natural features of the surface of the Earth and how they all fit together. Understanding how mountains, ridges, and valleys form and how the trail navigates its way through them became something I unconsciously picked up on over the course of the trail. I went from looking at the landscape ahead and having zero idea how I was going to traverse it, to looking at distant mountains and knowing exactly where the trail was going. It also became easier to predict where the trail would climb, descend, cross rivers, or be navigated via an alternate route. This all helps a lot with backcountry navigation, and despite my still always thinking I'm lost, I can now at least identify natural features and keep myself oriented in the wilds (I think?).
15. How to say yes to everything.
I was incredibly skeptical of strangers and especially the generosity of strangers before the PCT – probably because "don't talk to strangers" is for some reason (because pedophiles) we teach children growing up in the United States (which is why I never liked or trusted any of the characters at Disneyland). I have written in detail about my transformation from a weary skeptic to a full-fledged "yes man" here (but I think the transition can mostly be attributed to Jim Carrey).
16. Lightning is terrifying
Those of you who have read beyond this post, may already know that lightning was one of the things I came to fully appreciate whilst on the PCT. After hiking, sitting, and wishing my way through multiple thunderstorms, I learned that lightning is, in fact, the most terrifying thing to be found out in the wilderness (lightning and BearCat). Mother nature is not a force to be trifled with should you value your life. If you want to know the exact moment this realization happened, then you can check out this video.
17. Things could always be worse
No matter how bad things were going for me out on the PCT (and sometimes they were going pretty bad), I learned to appreciate the fact that they could always be worse. Water filter broke? I could have giardia. Fell and got a thousand splinters in my hand? Could have broken my leg. Mobbed by thousands of biting flies whilst taking a shit? Well I suppose sometimes things really can't get any worse. This lesson translates well to life off-trail too, and can help to keep me sane when I get myself into uncomfortable situations.